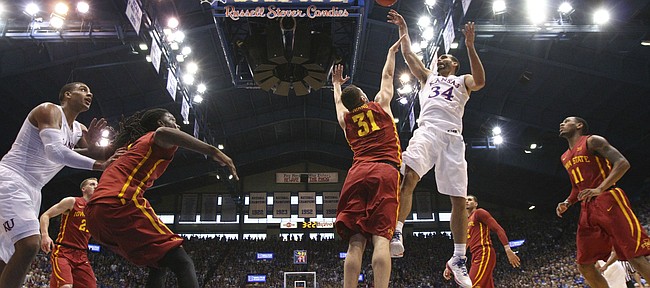 Perry Ellis has heard all the jokes, read all the posts on Twitter about how he looks older than he is and how long he's been a member of Kansas University's basketball team.
"So many people say I've been here forever and you know, they're right. I got a chance to play with Wilt Chamberlain and Danny Manning," the 22-year-old KU senior said in his Senior Day speech that followed his stellar 22-point, seven-rebound outing Saturday in an 85-78 victory over Iowa State in Allen Fieldhouse.
"Since I supposedly have unlimited eligibility, why don't I just come back next year?" Ellis added to a thunderous ovation from 16,300 fans.
That'd obviously be great for KU, not so much the other teams in the league, who Saturday saw Ellis add another wrinkle to his game — floor burns.
Photo Gallery
Kansas basketball v. Iowa State (Senior Day)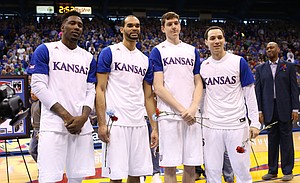 Images from the Jayhawks' second meeting with the Cyclones on Senior Day, Saturday at Allen Fieldhouse.
The 6-foot-8 senior from Wichita gave up his body to dive on the basketball at the top of the key and poke it to Wayne Selden, Jr., who one-hopped a pass to Devonté Graham for a layup that gave the (27-4, 15-3) Jayhawks a 74-71 lead with 2:29 left. Moments earlier, at 3:11, Landen Lucas' stick-back of a Selden miss had erased a 71-70 deficit, and as it turned out, gave KU the lead for good over (21-10, 10-8) ISU.
"I get on Perry quite a bit for not getting on the floor as much as what I think he should, but he did there at that point," said KU coach Bill Self, who was moved to tears during an emotional post-game speech of Jamari Traylor (eight points, three steals, two boards).  "That was the biggest possession of the game. It was huge for us."
Ellis followed it with a spin move and bank shot that upped KU's lead to 76-71 at 1:39. Graham followed with a three from the corner that made it 79-71 at 0:48.
"I just wanted to do whatever I could to try to get over that hump. I had an opportunity to get the ball and I did," Ellis said of his dive on the floor and pass to Selden.
Graham, who hit four threes and scored 16 points, was thankful.
"We were up one and I came down and lost the ball and they were about to have a fast break. They would have had numbers. Perry dove on the play and we got two points out of it so it was definitely the biggest play of the game," Graham said.
Selden, who hit three threes and scored 16 points as well, quickly found Graham underneath for the wide-open layup after Ellis knocked him the ball.
"I was wide open so I knew he would," Graham said, referring to Selden delivering the ball.
Graham's three from in front of KU's bench was the dagger to defeat an ISU team that led by as many as four points with 8:48 left.
"We have a lot of confidence in him and he got the wide-open shot and knocked it down," Ellis said of Graham, who had three assists on a day KU totaled 12 assists, just five turnovers.
Podcast episode
Kansas basketball coach Bill Self meets the media after the Jayhawks came up with crunch-time plays to beat Iowa State, 85-78, on Senior Day.
Ellis earlier was hit with a flagrant foul that came just after Graham released his three that swished to erase an 63-61 deficit and give KU a 64-63 lead at 7:39. 
Ellis elbowed Deonte Burton in the face while positioning for a possible rebound. Burton hit two free throws and Georges Niang scored on the ensuing possession to put the Cyclones up, 67-64, at 7:22.
"It was something unfortunate. I didn't try to do that," Ellis said. "In the moment trying to box out, I boxed out too high and hit him."
KU's late-game flurry — the Jayhawks outscored ISU, 15-7, after the final TV timeout at 3:25 — pretty much proved to be the story of the day.
Podcast episode
Kansas basketball players Perry Ellis, Jamari Traylor and Devonté Graham discuss the Jayhawks' Senior Day victory over Iowa State, to close the regular season.
"Coach said (in huddle), 'This is our time. We have to win the last three minutes or so.' We did that," Ellis said. "We've been in that situation before. We have a lot of veteran guys and we did it.
"I never think that way," Ellis added, asked if it crossed his mind KU might lose its first-ever Senior Day contest (KU is 32-0 on Senior Day throughout history). "I never have. It's over when it's over. I'm going to play until it's over."
He said it was an emotional day playing in the final home game of Ellis, Hunter Mickelson, Evan Manning and Traylor.
"There was a lot of thinking. I was thinking about so much," Ellis said. "Last night I just kept thinking, 'One more. One more.' Waking up, 'It's the last go-round.' It was a lot of thinking. A lot of family was around. It was great to come away with the win."
Before the game, he even thought about his short-but-sweet three-minute Senior Day speech, which included the Chamberlain/Manning age joke.
"About every day I see my face cropped on pictures from decades ago. I had to say something about it," Ellis explained to media members, who were willing to play along.
So Perry, he was asked, "what was it like playing against Wilt?"
"I can barely remember. It was so long ago. It was good," Ellis said, smiling.
KU will next meet the winner of Wednesday's Kansas State-Oklahoma State game in a Big 12 quarterfinal at 1:30 p.m., Thursday, in Sprint Center in Kansas City, Mo.
— See what people were saying about KU's Senior Day vs. Iowa State during KUsports.com's live coverage.
---
More news and notes from KU's regular-season finale vs. Iowa State
---
---
---
More like this story on KUsports.com