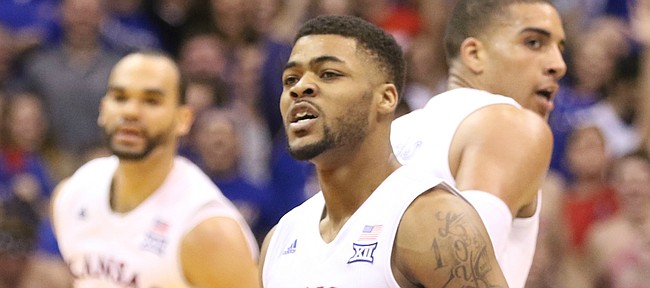 One of the best indicators that a team owns a pretty strong killer instinct showed up loudly on Saturday at Allen Fieldhouse during top-ranked Kansas University's 85-78 victory over Iowa State.
Not only did the Jayhawks avenge the third of their three Big 12 losses this season by knocking out the Cyclones with a late surge, they did it by almost completely flipping the script on one of Iowa State's best players.
In Ames, Iowa, back in late January, ISU point guard Monté Morris carved up the Jayhawks at will, finishing with 21 points, nine assists and no turnovers in a 13-point Iowa State win that featured the Cyclones outscoring the Jayhawks 49-29 in the second half.
"Morris was the best player in the game," KU coach Bill Self said after that January loss. "He dominated. I mean dominated."
Not Saturday.
Photo Gallery
Kansas basketball v. Iowa State (Senior Day)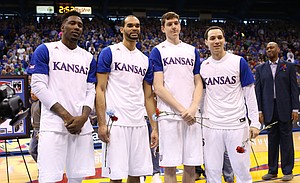 Images from the Jayhawks' second meeting with the Cyclones on Senior Day, Saturday at Allen Fieldhouse.
Morris' final line from KU's Senior Day victory was not at all indicative of the role the ISU junior played. He finished with a respectable 13 points, four rebounds and four assists versus one turnover in 40 minutes. But for much of the game he was a non-factor.
KU junior Frank Mason III deserves most of the credit for that and Self deserves props for making sure Mason understood the importance of putting the clamps on Morris.
"We talked about it," Self said. "I mentioned 21, nine and zero a thousand times this week. Not even saying it to Frank but definitely knowing he was gonna hear it."
Mason heard it, all right. And Morris, no doubt, left Lawrence wishing he hadn't.
Rather than letting Morris cruise up the court freely and work off ball screens near the three-point line, where the first or second dribble would put him in the heart of the paint, Mason picked up Morris the minute he crossed mid-court. And he pretty much never lost sight of him from there.
"I wanted to get in motion with him early so I could cut the head off of their team," Mason said. "And our guys were locked in — shrinking the floor, making him make the extra pass. We weren't really guarding (ISU forward Jameel) McKay because he's not a shooter. So the bigs, on the hedges, were kind of staying with Monté until I could get back in front of him."
Morris finished 3-of-10 shooting from the floor and six of his 13 points came from the free-throw line, three in the final minute when the game had been decided.
Podcast episode
Kansas basketball coach Bill Self meets the media after the Jayhawks came up with crunch-time plays to beat Iowa State, 85-78, on Senior Day.
Overall, Self was less than thrilled about his team's defense in Saturday's victory. The Cyclones shot .474 from the floor and became the first team to top .415 shooting since Kentucky on Jan. 30.
But where it mattered most, point guard on point guard, head of the dragon versus the man who makes the motor run, Self was 100 percent satisfied.
"We did a better job on him," Self said of Morris. "We can certainly defend better than we did today, but Frank's job on Morris was admirable."
Podcast episode
Kansas basketball players Perry Ellis, Jamari Traylor and Devonté Graham discuss the Jayhawks' Senior Day victory over Iowa State, to close the regular season.
In what turned out to be yet another classically competitive game between the Cyclones and Jayhawks, there were plenty of hustle plays and clutch shots that stood out. Players from both teams hit the deck all afternoon and Devonté Graham's layup and late three-pointer from the corner arguably were the two biggest shots of the game.
I'm sure most who watched could name at least five or six more plays like Graham's from Saturday and at least a couple dozen more from the past three months of this incredible season.
And while those are the plays that show up on SportsCenter's nightly Top 10 and make fans ooh and ahh, it's defensive efforts like Mason's against Morris on Saturday that separate the contenders from the also-rans.
With the regular season now behind them, the Jayhawks are much more than contenders. They might just be the favorites. And when a team that is favored to make a deep tournament run is led by a player like Mason, who is willing to put aside the highlights because redemption and pride are more important to him, the favorite becomes even more dangerous.
Mason is going to score. And he did on Saturday, finishing with nine points and five assists in 32 minutes.
But if KU's junior point guard can defend like he did against Morris on Saturday and if Graham can follow suit — ask UCLA's Bryce Alford or Oklahoma's Buddy Hield if he's capable — this team is going to be awfully tough to beat during the next few weeks, just like it has been during the past few.
— See what people were saying about KU's Senior Day vs. Iowa State during KUsports.com's live coverage.
---
More news and notes from KU's regular-season finale vs. Iowa State
---
---
---