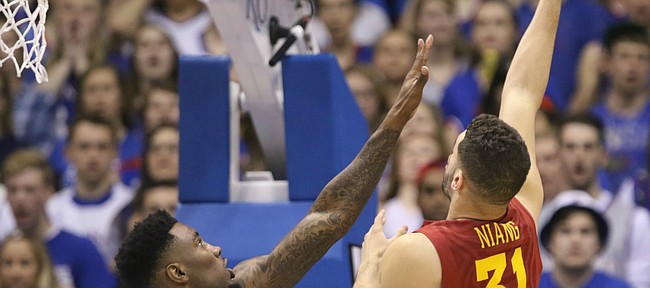 One of the toughest competitors to come through Allen Fieldhouse during the past four years, Iowa State forward Georges Niang got one final crack at leaving Lawrence with a win on Saturday but came away with his fourth loss in four tries, an 85-78 grinder that went to No. 1 Kansas University.
From the time he stepped into the famed fieldhouse as a wide-eyed freshman in 2013 to Saturday afternoon, when all of Niang's crafty skills and veteran moves were on full display, it was always apparent that playing Kansas in Lawrence meant something to Niang.
So as the senior, who likely is a lock to earn all-Big 12 honors this season, sat in the Allen Fieldhouse media room one final time, he was asked what he would remember most about playing in Lawrence.
"Probably that annoying song they sing at the end," Niang began. "That's one thing I'll for sure remember. But, nah, just the competitive rivalry. Before I got here, people said there wasn't really one, and during my four years here I think it's turned into one, so I'll definitely remember that for sure."
Photo Gallery
Kansas basketball v. Iowa State (Senior Day)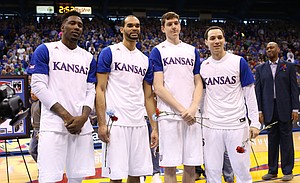 Images from the Jayhawks' second meeting with the Cyclones on Senior Day, Saturday at Allen Fieldhouse.
Competitive was probably the best way to describe Saturday's Kansas victory, which featured both teams building decent-sized leads and the two squads being separated by just a single point heading into the final three minutes.
Niang, who finished with 22 points, a dozen of them coming in a foul-plagued first half, had a lot to do with that as he looked next to unstoppable at times during the first 20 minutes. But after picking up his second foul midway through the first half, Niang sat for the final nine minutes of the half.
"I thought about (putting him back in)," said ISU coach Steve Prohm after the game. "And maybe playing zone, but as long as the game was within reach I wasn't gonna risk it."
The pine time, no doubt, hurt Niang's production, but ISU entered the half trailing by just a point. From there, the second half played out just like Niang said he would remember his treks to Allen Fieldhouse. Clutch shots, all-out hustle and crucial moments on both ends of the floor decided this one.
In Lawrence, players who put up big games in KU's home gym are remembered forever. Buddy Hield's 46-point outburst earlier this season will be talked about for a while. Missouri's Anthony Peeler had a couple huge games in the old Big Eight days. Oklahoma State's Randy Rutherford went off for 45 in a losing effort in 1995. And even the name of Nevada's Nick Fazekas is still thrown around from time to time.
But those were one-time things. Niang left Allen Fieldhouse with career averages of 21 points, six rebounds and four assists per game in 33 minutes.
Like Hield earlier this season, Niang was escorted off the floor by a big ovation from KU's home crowd.
"I thought that was nice, and I'm sure he'll remember that for a long time," KU coach Bill Self said. "Our people have enjoyed watching him play for four years. They've enjoyed watching him compete. And how can you not respect his game?"
— See what people were saying about KU's Senior Day vs. Iowa State during KUsports.com's live coverage.
---
More news and notes from KU's regular-season finale vs. Iowa State
---
---
---