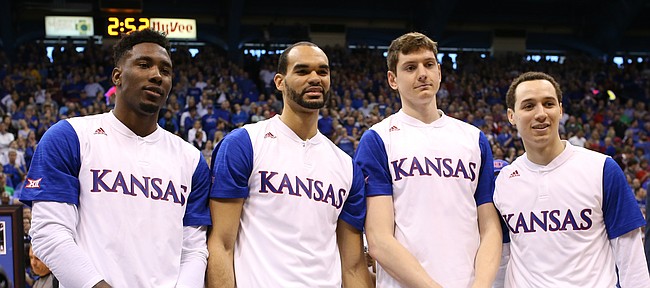 Kansas senior forward Perry Ellis, who spoke for three minutes following the Jayhawks' 85-78 Senior Day victory over Iowa State, thanked the fans.
"Back in my freshman year we were playing Iowa State in Kansas City. After the game you were cheering my name. I didn't have much confidence before that. After that I saw you believed in me and it pushed me forward to where I am now," Ellis said.
Of Ellis' speech, Self said: "There was a time we recruited Perry and after he got here you couldn't get him to do a presentation or speech in his class, because there were 15 other people in it. Now to have him in total command of a situation like he did there shows you how much he's matured. It's pretty amazing to watch."
Manning starts, speaks: Senior guard Evan Manning, who started and played the first six minutes, guarded ISU's Matt Thomas, who hit one shot during that span.
KU led, 11-10, when Manning left the game.
"I thought I'd play a couple spot minutes. It was a real cool opportunity, the most fun I've had playing basketball in a long time," said Manning, whose dad, Wake Forest coach and KU All-American Danny, attended.
"It's been a long season. To finish it on a win at home on Senior Night with so much emotion ... it's always going to be a hard game to win," Evan Manning shared. "Coach said, 'Good job. There's a lot of things we have to do better.'''
Manning did not attempt a shot.
"Coach told me, 'Good defense.' He knew I wanted to shoot one. I didn't get one (shot) up. I would have if I was open, if it was a good shot," Manning added.
Mickelson has block: Senior Hunter Mickelson, who missed three shots, had a rebound and a fierce block of a Georges Niang shot. His speech lasted two minutes.
"My teammates ... it's been a wild ride, a wild bunch. It's been fun every step of the way. Coming in here it's easy for a freshman. You have certain guys you will be with four years. I came kind of in the middle of everything. You treated me like a brother and teammate. I appreciate that," said the Arkansas transfer.
— See what people were saying about KU's Senior Day vs. Iowa State during KUsports.com's live coverage.
---
More news and notes from KU's regular-season finale vs. Iowa State
---
---
---