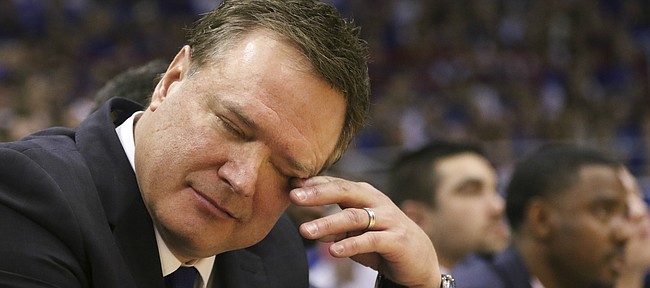 Kansas University basketball coach Bill Self wiped a tear from one eye, then the other during Jamari Traylor's eight-minute Senior Day speech on Saturday in Allen Fieldhouse.
The Jayhawks' 13th-year coach was emotionally affected while listening to the 6-foot-8 Chicago native speak personally to Self about an incident at the conclusion of practice his freshman season.
"You in practice were saying nobody's had it harder than me. Nobody should ever have a bad day (because Traylor had the worst days possible during a period of homelessness in high school). I remember when you were talking your eyes got a little watery. I was, 'Man this guy really cares about me,''' Traylor told 16,300 fans after the Jayhawks' 85-78 win over Iowa State.
Of Traylor's speech and his own reaction captured on the video board, Self said: "I'm not the most emotional guy. When you know his journey I can't do anything but respect him. To know how frustrating he's been to me ... to know how many times I've called him in (his office) and said, 'One more screw-up.' All those things.
Photo Gallery
Kansas basketball v. Iowa State (Senior Day)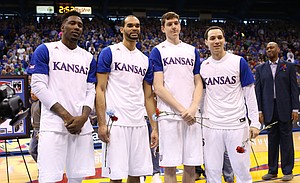 Images from the Jayhawks' second meeting with the Cyclones on Senior Day, Saturday at Allen Fieldhouse.
"To me he's been so much fun to be around. I don't think you have to be buddy/buddy with guys. I never have. There's something about believing in kids and having them respond the way they do and I felt that five years with Jamari. He'll go down as one of my all-time favorites. I'm not saying I don't care for the other guys as much. Seeing the deck stacked against him and how he responded to it I have nothing but admiration and respect for him."
Of the speech, Self added: "He's very emotional and certainly held it together. He said some nice things from the heart because he knows this place has changed his life forever"
Senior forward Traylor was asked if he'd ever seen Self shed tears before Saturday.
"No, I don't think I have. Maybe the time I was talking about (in speech) but other than that, no. I just know he's got love for me and I have love for him so it was just a little crazy feeling right there," Traylor stated.
— See what people were saying about KU's Senior Day vs. Iowa State during KUsports.com's live coverage.
---
More news and notes from KU's regular-season finale vs. Iowa State
---
---
---