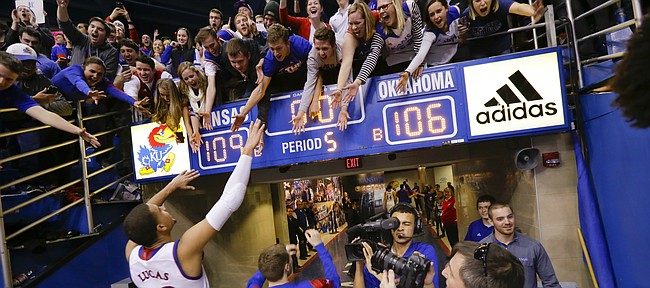 Two college basketball heavyweights standing toe-to-toe for 55 minutes, trading shots that would floor lesser opponents, never falling, always ready with the counter-punch.
No. 1 vs. No. 2. Three overtimes. As loud a crowd as Dick Vitale ever has heard. No. 1 Kansas won the game, 109-106. Oklahoma was the opponent. There was no loser, least of all those lucky enough to witness it, lending rock-concert volume to the instant classic.
Allen Fieldhouse was the center of the sports universe Monday night and 16,300 hoarse voices will be telling the truth when they say they witnessed it live, hung on every shot, every whistle, every lead change. Another 50,000 will lie and say they were there. Eventually, they'll believe their own lies and nobody will call them on it.
Photo Gallery
Kansas basketball v. Oklahoma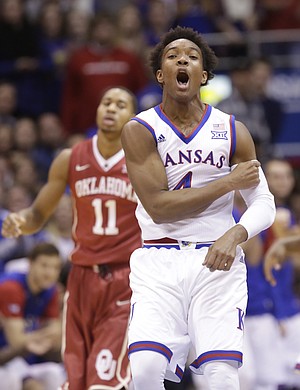 View images from Monday night's game between the Jayhawks and Sooners at Allen Fieldhouse.
I was there and I still have the goosebumps to prove it. And yes, I'm bragging about being there. Who wouldn't?
Oklahoma guard Buddy Hield, the quick-afoot, quick-trigger guard from the Bahamas, was there. He has a share of an Allen Fieldhouse record to prove it, matching the mark for most points (46) by a KU opponent.
Frank Mason was there. He spent two minutes on the bench, 53 in the game. Most of that time was spent chasing Hield all over the floor. The last 15 minutes and 19 seconds of that exhausting pursuit came with Mason carrying the burden of four fouls, one whistle from disqualification.
"I was trying to get him his fifth foul so he could stop guarding me so tight," Hield said afterward.
Mason defended in a way that made it look as if he did not have avoiding a fifth foul on his mind.
"It was a little, but I can't let that be on my mind a lot," Mason said. "Once I do that the tendency is to give up easy baskets and that wasn't the time to do that."
Podcast episode
Kansas basketball coach Bill Self marvels at the display put on by the No. 1-ranked Jayhawks and No. 2 Oklahoma after KU's 109-106, triple-overtime victory at Allen Fieldhouse.
Easy baskets were in short supply all night. Tough, clutch, hotly contested shots ruled the night. Hield and Jordan Woodard combined for 73 points and 14 three-pointers and didn't play for the winning team. When does that ever happen?
Mason had a rough shooting night, exhausted by chasing Hield, but had enough left in his tank to make the play of the game on a night packed with so many great ones.
Oklahoma, down one with 12 seconds left, had Hield inbounding the ball. Mason deflected his pass, ran down the ball, used his deft ball-handling to break free and was fouled on his way to the hoop. He made both free throws with nine seconds left and Kansas played terrific defense at the other end to win it.
Podcast episode
Kansas players Perry Ellis, Devonté Graham and Frank Mason III react to the Jayhawks' crazy, triple-overtime victory over Oklahoma.
Mutual respect shown immediately after the game was easy to spot as sweaty bodies embraced. Kansas coach Bill Self, so awed by Hield's performance, slapped hands with Hield, pinned a big hug on him and then patted him on the back of the neck. Vitale let Hield know how blown away he was by him.
Hield and Mason congratulated each other on jobs well done.
Kansas fans let Hield know what they thought of him by sending him off the floor with a standing ovation.
"He deserved it," Ellis said.
So did KU's senior forward from Wichita.
Ellis made a number of clutch shots to bring Kansas back from an eight-point deficit and hit three-pointers, baby hooks, turn-around hooks — you name it, he made it — on his way to 27 points and 13 rebounds in 53 minutes.
"I don't know if scoring-wise it was one of my best games, but heart-wise, confidence-wise, it was," Ellis said.
Mason called it, "craziest game I've ever been a part of."
Both teams, blessed with more experience than most elite college squads, are really good. On this night, they both were crazy good.
"We beat a team tonight that could win the national championship," Self said.
Nobody who saw the game on TV or live could be dumb enough to argue that point.
— See what people were saying about No. 1 versus No. 2 during KUsports.com's live coverage
---
More news and notes from No. 1 Kansas vs. No. 2 Oklahoma
---
---
---
More like this story on KUsports.com