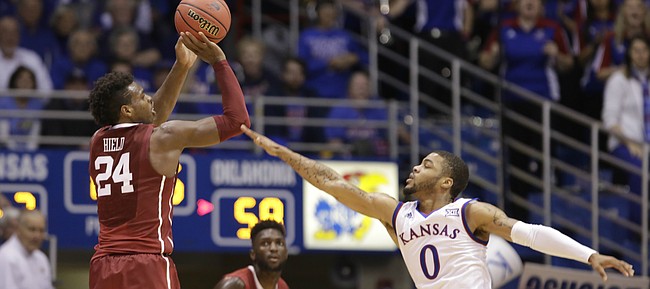 Oklahoma guard Buddy Hield turned in a performance for the ages during the second-ranked Sooners' 109-106, triple-overtime loss to top-ranked Kansas on Monday night.
But it was one mistake at the end of the game that will stick with the senior from the Bahamas for a long time.
With OU trailing 107-106 with a little less than 15 seconds to play, Oklahoma coach Lon Kruger called timeout to set up his team's final offensive attack. Out of the timeout, Hield went to inbound the ball and, with KU junior Frank Mason III hounding him, misfired a pass that went off Mason's hands and led to KU sealing the game with a pair of free throws at the other end.
Photo Gallery
Kansas basketball v. Oklahoma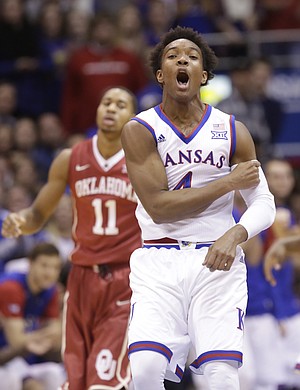 View images from Monday night's game between the Jayhawks and Sooners at Allen Fieldhouse.
Asked after the game to describe what happened on the play, Hield, whose potential game-tying three-pointer that would've sent it to a fourth overtime caromed off the backboard, took the blame.
"(OU guard) Isaiah (Cousins) kind of faked me out a little bit," Hield said. "It's my fault. I just have to learn from this and try to get better."
Moments later, Kruger was asked if he thought Mason might have been over the inbounds line, as several folks watching on television claimed on various social media sites. Kruger said he had not seen the play again and could not make a call, and Hield, who was gracious in defeat throughout the post-game, covered his mouth and told his coach Mason was out of bounds.
Kruger smiled, asked his star guard, "Was he out of bounds?" and, with that, the two Sooners left Allen Fieldhouse on the losing end of an epic battle.
"I just hate losing, man," Hield said. "It doesn't matter how I do, I still believe I could've done better. I hate the fact that we came out with the loss. This is my last time playing in this building and it just sucks going out of here 0-4."
Hield, who poured in 46 points on 23 shots, including 22 points in the opening half, delivered the second-highest all-time scoring outing by a Big 12 player, falling just short of tying the conference's single-game scoring record of 48 set by Iowa State's Melvin Ejim in 2014.
"One of the best," said Kruger, when asked where Hield's showing Monday night ranked in his coaching career. "No question. That's in the face of a very good KU team. I applaud Buddy for staying with it and being persistent and battling like he did."
Hield was so good in this one, he nearly recorded a triple-double, finishing with eight rebounds and seven assists in a game-high 54 minutes for the Sooners, who fell to 12-1.
In reaching his career-high, Hield made 12 of 14 free throws and eight of 15 three-point attempts to help pace the OU offense.
In the end, however, it was his five turnovers, that had as much impact on the outcome and both Hield and Kruger said they hoped the Sooners (12-1 overall, 1-1 Big 12) would learn from their shortcomings.
"When you get a game like this," Kruger said. "The value of each possession, the value of each block out, the value of each loose ball, (it's important to) just understand the significance of that."
Despite all of the twists and turns and outstanding individual efforts, it was the game as a whole, and not just Hield's performance, that left both teams feeling like they'd won something on the way out the door Monday night.
"I don't know that I've been in one better," Kruger said. "It was terrific. We would've much preferred the satisfaction of winning a game like that.... Happy about our guys' effort. Proud of 'em. Just disappointed couldn't quite feel that satisfaction."
— See what people were saying about No. 1 versus No. 2 during KUsports.com's live coverage
---
More news and notes from No. 1 Kansas vs. No. 2 Oklahoma
---
---
---
More like this story on KUsports.com