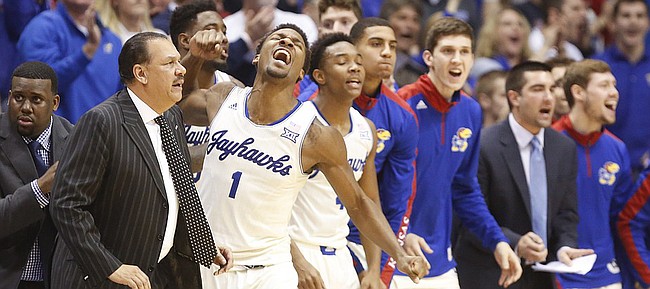 Photo Gallery
Kansas basketball v. Oklahoma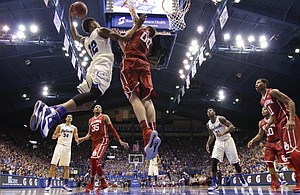 Images from Monday night's game between the Jayhawks and Sooners at Allen Fieldhouse
Podcast episode
After his Kansas basketball team beat Oklahoma 85-78 on Big Monday, coach Bill Self meets the media and says KU needs as much pace as it can get from all five players on the floor. Plus, Self says freshman Cliff Alexander played with great energy against OU.
Podcast episode
Kansas basketball players Cliff Alexander, Perry Ellis and Brannen Greene meet with the media following the Jayhawks' 85-78 win over Oklahoma on Big Monday. Alexander discusses playing with more of a "motor," Ellis says KU has a team full of players who can score and Greene says he is constantly ...
KANSAS 85, OKLAHOMA 78
Bill Self raced through the fabled northwest tunnel of Allen Fieldhouse with a big smile on his face, slapping palms with a pair of fans on the way to the locker room after Kansas University's 85-78 ESPN Big Monday victory over Oklahoma.
"Fun game, huh?" Self asked the delirious duo, who nodded in agreement.
Fun? 
Crazy? 
Thrilling? 
Wild?
All those words could be used to describe a game in which KU saw a game-high lead of 20 points turn into a four-point deficit before some heroics by Brannen Greene and others down the stretch paved the way for KU's fourth Big 12 victory in five tries and 15th overall win against three defeats. OU fell to 14-6, 3-3.
"What a game! That's good for Big 12 basketball there," said Self, who was the polar opposite emotion-wise late in the fiercely contested contest, when miffed at a call, he pounded the video board panel next to the bench three times, knocking it offline.
"We played a great first half (in tying a school record with nine threes in a half and leading 51-32 at break). They played a great second half (in leading 69-65 with 4:56 left). The basket got thimble-sized for us the first 15 minutes of the second half and looked like a big water tub for them. To have guys step up when we had absolutely no momentum ... I think we grew up a lot tonight," added Self, whose Jayhawks outscored OU, 20-9 the final five minutes.
KU was down 71-70 at 3:28 when Kelly Oubre Jr. (19 points, nine rebounds) missed the back end of a one-and-one. Cliff Alexander (13 points, 13 boards) rebounded out to Greene, who hit what turned out to be a game-winning three, giving KU a 73-71 lead at 3:25.
"I thought it was good. Yeah it definitely felt good," said Greene, who hit three threes (KU was 10 of 19 to OU's eight of 25) and scored 12 points in 15 minutes. He played just eight minutes combined the past two games.
"Good rotation and rhythm. It was a good shot. I felt it was good. I was fine. I knew what I needed to do. I had to improve on the defensive end," added Greene, who said, "of course," when asked if he'd had some conversations about his play with Self of late. 
"I have to improve on the defensive end. I'm working on that. I'm not a great defensive player. It's all about improvement and it's what I'm trying to do. The important thing is we're on the same page," he added.
Isaiah Cousins followed a Frank Mason III (10 points, four assists) 10-footer with a three and KU led, 75-74 at 2:20. Alexander then dunked off a feed from Mason and Oubre scored on a drive and the Jayhawks led, 79-74, at 1:15. Oubre answered two free throws by Buddy Hield (26 points) with another driving layup and KU led, 81-76, at :55. The lead didn't dip lower than four the rest of the way.
"We knew we wouldn't shoot like that the second half," Greene said. KU hit 57.6 percent the first half and was nine of 13 from three. The nine threes tied for most treys in a half in school history. KU hit nine in the first half in 2010 at Nebraska; nine in the second half against Hofstra in 2009 and nine in the first half in 1994 at North Carolina State. KU hit its first eight threes for the first time in the Self era. The school record is nine without a miss, in 1994 at N.C. State.
"We were hot at the beginning. Oklahoma got hot the second half. (48.4 percent second half after 32.4 the first). We got back into a rhythm. The crowd got into it. Everybody's back to school. It was fun," Greene stated.
Of the keys to victory, Self said: "B.G. had kind of been out of it and not playing as much. He helped us win that game. He did make the biggest shot of the game," Self said. "Two freshmen played pretty well, Cliff and Kelly. Everybody else was solid. It was a fun game to be part of. Our crowd was great. We really needed this one tonight."
---
More news and notes from Kansas vs. Oklahoma
---
More like this story on KUsports.com