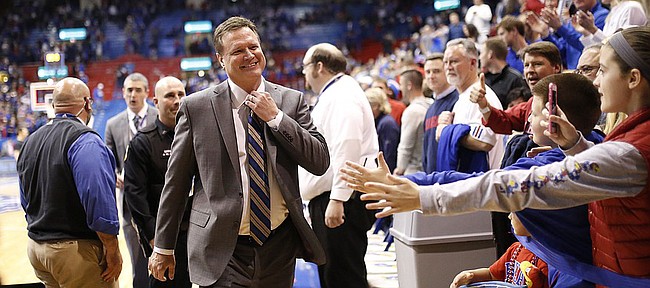 Photo Gallery
Kansas basketball v. Oklahoma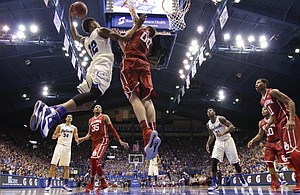 Images from Monday night's game between the Jayhawks and Sooners at Allen Fieldhouse
Podcast episode
After his Kansas basketball team beat Oklahoma 85-78 on Big Monday, coach Bill Self meets the media and says KU needs as much pace as it can get from all five players on the floor. Plus, Self says freshman Cliff Alexander played with great energy against OU.
Podcast episode
Kansas basketball players Cliff Alexander, Perry Ellis and Brannen Greene meet with the media following the Jayhawks' 85-78 win over Oklahoma on Big Monday. Alexander discusses playing with more of a "motor," Ellis says KU has a team full of players who can score and Greene says he is constantly ...
KANSAS 85, OKLAHOMA 78
Kansas University basketball coach Bill Self said after the Jayhawks' 85-78 win over Oklahoma on Big Monday he hoped to meet President Obama during his visit on Thursday.
"We're trying to get that worked out," Self said. "I've been in contact with somebody out of his staff or office. It would mean a lot to everybody in our program, certainly our players. We understand his schedule is tight," Self added, noting the fact Obama is a huge basketball fan should help the Jayhawks' chances of meeting him.
Traylor banged up: Kansas University junior forward Jamari Traylor, who has a hip flexor injury, had four points in 23 minutes.
"He hurt his hip a week ago. It's been bothering him," Self said. "That's the reason he was not near as effective. He didn't have the quickness or explosiveness as he usually does."
Celebration: KU athletics on Monday (Martin Luther King Jr. Day) honored former student-athletes who were instrumental in the desegregation of Lawrence during the late 1950s.
Homer Floyd (football) and Ernie Shelby (track), who in 1957 expressed their intention to leave KU if some issues regarding discrimination in Lawrence were not addressed, were introduced during the first half of Monday's KU-Oklahoma game. Before the game, the two participated in a candlelight vigil at the Strong Hall Rotunda and walked with students from Strong Hall to the Kansas Union for a special social justice celebration. 
Coach livid: Freshman Kelly Oubre Jr. said he saw Self pound the table next to him and knock out the video board. "He was frustrated. I was frustrated too. He's pretty strong guy so I knew that would happen," Oubre said with a smile.
Hield good on D: Oklahoma coach Lon Kruger on junior standout Buddy Hield, who entered Monday's game as second-leading scorer in the Big 12 at 17.6 ppg: "Defensively, he's so much better (than last year)," Kruger told the Tulsa World. "His focus, his balance, his discipline defensively. He's not reaching as much. He's a year older. You'd expect that. But he has probably jumped as much as anyone in that area."
Oubre earns award again: Oubre was named Big 12 Newcomer of the Week on Monday for the second time this season.
Oubre, a 6-7 freshman from New Orleans, averaged 12.0 points and 7.0 rebounds per game as the Jayhawks defeated Oklahoma State at home and lost to Iowa State on the road. Oubre scored 14 points versus OSU and had 10 points and eight boards against ISU. He shot 40 percent on the week with five assists and four steals.
Oklahoma's Buddy Hield was selected Big 12 player of the week. Hield, a 6-4 junior from Freeport, Bahamas, averaged 24.0 points and 6.5 rebounds as OU beat Oklahoma State and lost to West Virginia.
Not that big?: Philadelphia 76ers rookie Joel Embiid has denied a Philadelphia Inquirer report that he weighs 300 pounds.
"I don't weight that," Embiid told csnphilly.com on Sunday. A team source told CSNphilly that 275 has been the maximum weight for Embiid, who weighed about 250 last season at KU.
CSNphilly.com sources confirmed an Inquirer report that Embiid has been at odds with the training staff at times this season. He may miss the entire season because of foot surgery last spring.
---
More news and notes from Kansas vs. Oklahoma
---
More like this story on KUsports.com