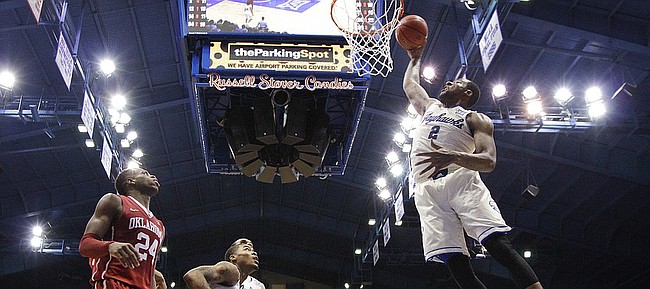 Photo Gallery
Kansas basketball v. Oklahoma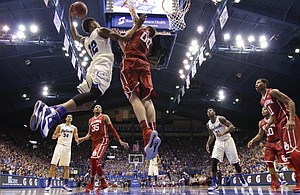 Images from Monday night's game between the Jayhawks and Sooners at Allen Fieldhouse
Podcast episode
After his Kansas basketball team beat Oklahoma 85-78 on Big Monday, coach Bill Self meets the media and says KU needs as much pace as it can get from all five players on the floor. Plus, Self says freshman Cliff Alexander played with great energy against OU.
Podcast episode
Kansas basketball players Cliff Alexander, Perry Ellis and Brannen Greene meet with the media following the Jayhawks' 85-78 win over Oklahoma on Big Monday. Alexander discusses playing with more of a "motor," Ellis says KU has a team full of players who can score and Greene says he is constantly ...
KANSAS 85, OKLAHOMA 78
The sun came up in the East, set in the West, Allen Fieldhouse didn't have an empty seat and the player singled out by Kansas University basketball coach Bill Self with a second-half benching two nights earlier bounced back with a terrific effort.
Those four Monday events were equally predictable.
Self knew the only shot Kansas had to win an 11th consecutive Big 12 title was for freshman center Cliff Alexander to play the entire game gushing sweat. So he limited him to two-second half minutes in a loss to Iowa State in Ames, Iowa, and Alexander responded with 13 points and 13 rebounds in Monday night's tension-packed, 85-78, thriller of a victory over Oklahoma.
"Yeah, yeah, it got through," Alexander said of the message in the form of a second-half benching. "Most definitely, it got through."
Alexander said he didn't think the motivational tactic was unjust.
"Most definitely, I din't play with that motor at all," he said of his Iowa State performance. "I wasn't running the floor. I didn't alternate any shots I could have alternated and I didn't get some rebounds I should have."
Why not?
"It's a mental thing," Alexander said.
Self did a nice job of explaining why calling it lack of effort when his center doesn't play with his motor running hot is accurate.
"There are people who are very close to him agree that he's not playing with the motor he's capable of playing with," Self said. "You might think of that as he's not trying or he's not playing hard. That's not necessarily true. 
"When your brain hesitates and you're thinking, all the sudden you lose that motor. Can you imagine a sprinter if his mind's cluttered? He'd have no chance. He hasn't been playing with that free mind because he is conscientious and he wants to do it. We need to say, 'Hey, screw up. That's fine. Screw up. Just make sure you do it 100 miles per hour.' And we would be a much better team."
Kansas had Frank Mason III, Brannen Greene, Kelly Oubre Jr., Perry Ellis and Alexander on the floor when it did its Lazarus act late in a game the Jayhawks led by 20 points in the first half and trailed by four in the second. All five players made memorable contributions late.
Alexander hit big shots and dunks, crashed the boards and took a big charge.
Self had hoped Alexander would bring similar energy that Thomas Robinson brought. That's why Alexander watches so much video of the former KU All-American.
"He shows me T-Rob, most definitely. T-Rob, all the time," Alexander said. "He runs the floor, blocking shots, catching everything, dunking everything."
Alexander did his share of all that Monday, when he picked up seven offensive rebounds.
"Let's be honest, hey, Perry and Jamari (Traylor) are great but they don't give us a physical presence like Cliff potentially does," Self said. "We need that. We need that. It changes our team. Regardless of who starts moving forward, everybody needs a rim protector. Everybody needs somebody who can get rebounds in traffic and has really strong hands. I mean, there are so many good teams that have a physical presence that really we haven't had consistently this year. It's not a knock on Cliff. It's taken half his freshman year to kind of figure it out. Hopefully, from this point forward, we'll see a turned-up guy." 
Sounds as if Self is ready to let him play through his mistakes, probably start soon, and see what his most powerful big man can do to make Kansas tougher inside.
---
More news and notes from Kansas vs. Oklahoma
---