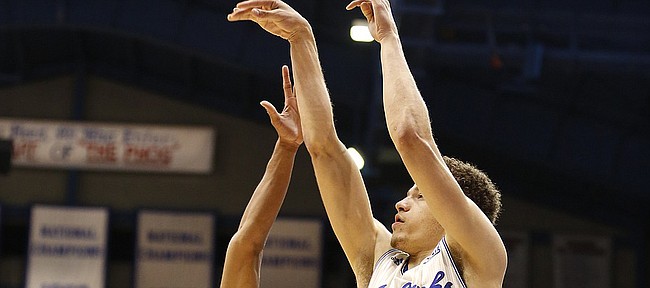 Photo Gallery
Kansas basketball v. Oklahoma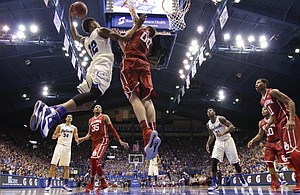 Images from Monday night's game between the Jayhawks and Sooners at Allen Fieldhouse
Podcast episode
After his Kansas basketball team beat Oklahoma 85-78 on Big Monday, coach Bill Self meets the media and says KU needs as much pace as it can get from all five players on the floor. Plus, Self says freshman Cliff Alexander played with great energy against OU.
Podcast episode
Kansas basketball players Cliff Alexander, Perry Ellis and Brannen Greene meet with the media following the Jayhawks' 85-78 win over Oklahoma on Big Monday. Alexander discusses playing with more of a "motor," Ellis says KU has a team full of players who can score and Greene says he is constantly ...
KANSAS 85, OKLAHOMA 78
The Oklahoma Sooners dished plenty of credit to the Kansas University men's basketball team for its role in Monday night's hard-fought, 85-78 victory at Allen Fieldhouse.
But with the disappointment of coming so close to stealing a victory in one of the most difficult places to win in the country still showing on their faces, the Sooners took their share of the blame for allowing the Jayhawks to explode offensively.
Kansas, which improved to 15-3 overall and 4-1 in Big 12 play, drained nine of 12 three-point attempts in the first half, including eight makes in a row to open the game.
"We were kind of leaving them open. We weren't playing the defense we were playing all year," said OU junior Ryan Spangler after the loss. "Once you see one or two go down the others are easier and that's what they did."
Oklahoma coach Lon Kruger said he was perplexed by the way his team seemed powerless to stop KU's hot shooting in the first half, but came away encouraged by the way things turned around in the second half.
"We had a little more fight, a little more getting-after-it," Kruger said.
They also had a lot more success.
After shooting just 32 percent from the floor in the first half, the Sooners shot 48 percent in the second half and drilled four of their first five second-half three-point attempts to help cut into KU's 19-point lead and actually jump ahead by a point with 10 minutes to play.
Junior guard Buddy Hield, who led all scorers with 26 points, hit a free throw with 10:10 to play that put Oklahoma (14-6, 3-3) ahead by a point. Five minutes later, OU led by four and had Kansas on the ropes. From that point on, however, OU went cold and KU did what KU has done all season — found a way to close out a victory down the stretch.
"It was very frustrating," said Hield, who added that OU's urgency and ability to win more 50-50 balls in the second half was as responsible for the comeback as the Sooners' shooting. "We did a good job coming back and guys did a good job sticking in there. We're a confident team and coach Kruger does a good job keeping us steady."
Spangler, who found himself in foul trouble in both meetings with the Jayhawks last season, played 37 minutes on Monday night and had a double-double of 13 points and 10 rebounds to show for it. Unfortunately for Spangler and the Sooners, KU freshman Cliff Alexander also chipped in a double-double (13 points, 13 rebounds) in a game that will go down as the night Alexander found his motor again.
"He's big," Spangler said. "He's a pretty good young guy. We battled and we'll have to do a better job next time."
That next meeting won't come for another seven weeks, March 7 at OU.
---
More news and notes from Kansas vs. Oklahoma
---
More like this story on KUsports.com