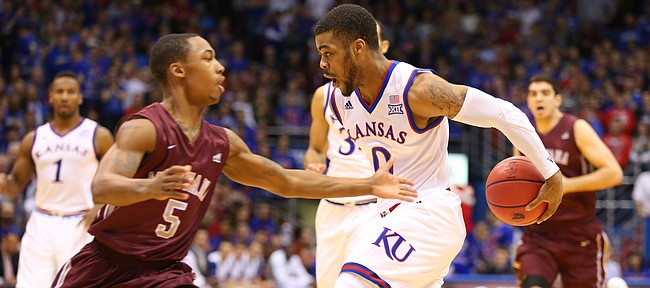 The Montana Grizzlies strolled into Allen Fieldhouse on Saturday afternoon with a 4-5 record and not much of a chance.
They left the victims of a 88-46 whipping by second-ranked Kansas, which got good balance from its lineup throughout and broke away from Montana early in the first half, never looking back.
Hunter Mickelson made yet another start for the Jayhawks, but he did not factor into things much in this one, finishing with just 2 points and 7 boards in 15 minutes.
Junior Brannen Greene also made his way into the starting lineup — in place of Devonté Graham — and Greene responded to the start with a big first half, hitting all three shots he took and scoring nine points in nine minutes.
Photo Gallery
Kansas basketball v. Montana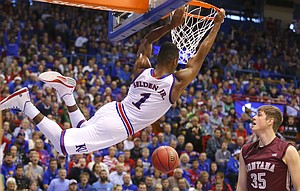 Images from the Jayhawks' Saturday game against the Grizzlies at Allen Fieldhouse
Senior Perry Ellis led the Jayhawks with 18 points and 9 rebounds, including 10-of-10 shooting from the free-throw line, in 24 minutes. Wayne Selden Jr. (11) and Sviatoslav Mykhailiuk (10) also reached double digits for Kansas, which improved to 9-1 with the victory.
Freshman Carlton Bragg, who started the second half, also turned in a solid showing, finishing with nine points on 4-of-6 shooting in 14 minutes.
Here's a quick look back at some of the action:
• The game turned when: It became a highlight practice in the second half. Sure, the Jayhawks raced out to double-digit lead early in the first half and led 44-24 at the break, but things got really crazy during the middle portion of the second half when it seemed as if the Jayhawks were stacking one highlight on top of the next and appeared to be trying to one-up each other along the way.
• Offensive highlight: KU fans were dazzled early by junior guard Frank Mason III, whose behind-the-back juke of a Montana defender in transition drew oohs and ahhs from the Allen Fieldhouse fans and a foul from a Montana defender. Mason finished the bucket and hit the free throw for the early and-one that kick-started KU's offense. There were a couple of sweet passes that qualified as highlights in this one, as well. Early in the first half, Cheick Diallo caught the ball on the right block and quickly threaded an underhand pass to Ellis, who was diving through the lane. Ellis caught the pass with ease, went up strong and earned a three-point play. Midway through the second half, Selden fired an alley-oop pass to Bragg from the other side of half court and Bragg went up and flushed it over Montana big man Martin Breunig, whose shoulders helped Bragg make a soft landing after the high-flying finish.
Podcast episode
Kansas coach Bill Self answers questions after the Jayhawks' blowout victory against Montana. Self addresses the ongoing struggle to determine which big men to play and more.
• Defensive highlight: It technically might have been considered a rebound, but anyone who saw it closely knows it was a steal. After a KU miss came off the back iron hard, Montana's Walter Wright went up to rip down the rebound around the free-throw line. However, as he came down with the ball in his hands, Mason plucked it from him on the landing and then quickly fired a pass up ahead to a wide open Diallo, who rattled the rim with a two-hand slam that gave KU a 20-7 lead.
Podcast episode
Kansas basketball players Perry Ellis, Carlton Bragg and Svi Mykhailiuk meet with reporters following the Jayhawks' 88-46 dismantling of Montana, at Allen Fieldhouse.
• Key stat: 3,473 ugly holiday sweaters. The Jayhawks billed Saturday's game as the perfect time to try to break the Guinness Book of World Records' mark for largest gathering of ugly holiday sweaters in the same place and KU fans more than doubled the previous record. Oh, on the floor, KU also limited the Grizzlies to 26 percent shooting (14-of-53).
• Up next: The Jayhawks will head to the west coast for their final game before Christmas, Tuesday night at 10 p.m. at San Diego State. The game will be shown on CBS Sports Network and will be KU's second-to-last game of 2015. The Jayhawks return to Allen Fieldhouse for a Dec. 29 game against UC-Irvine and then will open Big 12 play on Jan. 2 at home against Baylor.
— See what people were saying about the game during KUsports.com's live blog
---
More news and notes from Kansas vs. Montana
---
---
---
More like this story on KUsports.com