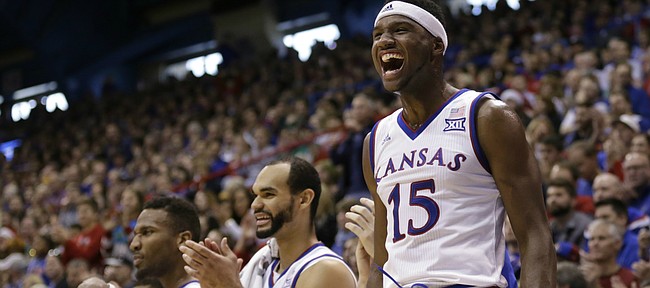 On a day Wayne Selden Jr. infused the entire team with crazy energy by applying serious defensive intensity, phenomenal passing and relentless effort, freshman Carlton Bragg followed that lead and weighed in with a strong game at a position where the team needs help.
Bragg contributed nine points, two rebounds, a blocked shot and a steal in 14 minutes Saturday in Kansas University's 88-46 domination of Montana in Allen Fieldhouse. He spent a good chunk of that time playing alongside Perry Ellis, instead of in his place.
KU coach Bill Self's search for a post player to twin with Ellis continues and Bragg did his best to keep in contention for that role.
Bragg made a beautiful pass from the high post to Ellis in the low post, scored on a Selden lob from just past half court and landed on the defender's shoulders, and of course missed a shot from right under the hoop, because that's what he still does way too often.
Photo Gallery
Kansas basketball v. Montana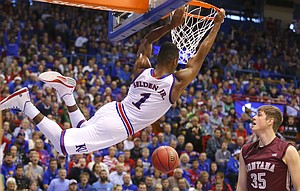 Images from the Jayhawks' Saturday game against the Grizzlies at Allen Fieldhouse
Self rewarded Bragg's first-half hustle with a second-half start.
"I think you can make a case we were at our best when he was in the game at the start of the second half," Self said.
Podcast episode
Kansas coach Bill Self answers questions after the Jayhawks' blowout victory against Montana. Self addresses the ongoing struggle to determine which big men to play and more.
No question. No other case could be made. Kansas scored the first 12 points of the second half, but it was just one game and it came against an overmatched opponent, although the Grizzlies did lose by just three points at Gonzaga.
"I think we play really well together," Bragg said of joining Ellis in the lineup. "He's got a great feel for the game. I've got a great feel for the game. We can go high-low. He can go high, I can go low. Vice versa. Both of us running floor. It's pretty good."
Podcast episode
Kansas basketball players Perry Ellis, Carlton Bragg and Svi Mykhailiuk meet with reporters following the Jayhawks' 88-46 dismantling of Montana, at Allen Fieldhouse.
Ellis called Bragg's potential, "tremendous. In practice he acts the same way he does in games. Always attacking, energetic, happy, just having fun. He has a tremendous skill set. He's going to be great."
He'll be great playing Ellis' position next season, but the question of the day is whether Bragg and Ellis give Kansas the best one-two post punch of any available combination.
"We get different looks when me and Perry are in the game because we're a lot faster than our opponents," Bragg said. "It opens up a lot for Perry with him being the best scorer that he is"
Offensively, it's the team's best post tandem, but it's not the most physical option, which creates potential problems defensively and on the boards.
Self said he wanted to experiment with Ellis and Bragg starting the second half together to see how well Bragg could handle Montana's Martin Breunig, "because that's the kind of guy he'll have to guard in the Big 12 and to see if he can guard him so Perry doesn't have to. The guy got his fourth foul at the start of the second half so he didn't get a chance to guard him."
At different times this season, Cheick Diallo, Hunter Mickelson and Jamari Traylor have made starts alongside Ellis, and Landen Lucas has played significant minutes at center as well.
Not much that happens on a basketball court puzzles Self. Watch him during a timeout. He's not one of those coaches who holds a conference with his assistants and then talks to his team. He knows exactly what he wants to say in what tone and articulates it without tripping over a word. He's the same way breaking down a game in a post-game press conference. 
Yet, he's not afraid to admit the answer to how to fill the spot next to Ellis has him searching.
"It's confusing to me because everybody brings something different," Self said. "Today they all played well. Nobody can say this guy needs to be out there in the majority of all situations because everybody's different. Everybody brings something different to the table."
Diallo determined the extent of his own playing time Saturday by fouling out in 10 minutes of action. 
"You saw today, Hunter gets seven rebounds in limited minutes," Self said. "Landen gets six rebounds in limited minutes and is by far our best defensive post man. Cheick got us off to a great start."
Diallo and Bragg are by far the most talented of the options, but also the least experienced. Is there enough time left in the season for Diallo to learn how to defend physically without picking up such quick fouls? Can he become better at defending in such a way as to make it more difficult for opponents to feed his man so close to the hoop?
Bragg has far more polish, but facing such big bodies every game is new to him and it takes adjusting at both ends. As is the case with so many freshmen, he tends to give the defender too much credit and himself not enough, which results in not going up strong with the ball and sometimes hurrying.
Watching how quickly Bragg and Diallo can improve with experience will make for fascinating viewing and conversation over the next few months. It also will go a long way toward determining the Jayhawks' chances of reaching the Final Four, where Self has a .750 winning percentage.
— See what people were saying about the game during KUsports.com's live blog
---
More news and notes from Kansas vs. Montana
---
---
---
More like this story on KUsports.com