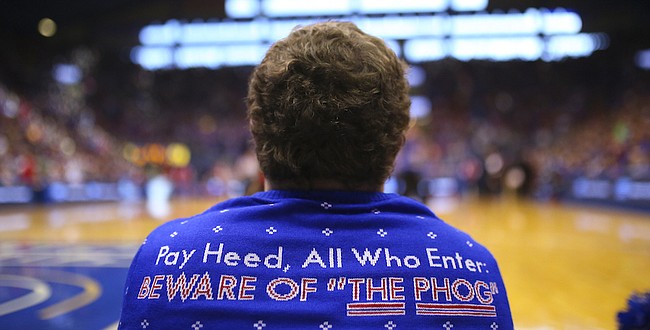 Much has been said about the atmosphere at Allen Fieldhouse when the Jayhawks play, but "festive" isn't a descriptor that usually comes to mind. On Saturday, though, as thousands of fans wore holiday sweaters to the Kansas University men's basketball game against Montana, the word certainly applied.
Snowmen, Santa Claus and reindeer all made appearances in fans' stitched game apparel, tallying points for a contest of their own.
Fans wore the sweaters as part of an effort led by Kansas Athletics to break the current Guinness World Record for "largest gathering of people wearing holiday sweaters." With 3,473 people participating, KU fans more than doubled the old record set at Loughborough University in Loughborough, United Kingdom, where 1,175 people wore holiday sweaters on Dec. 10, 2014.
Photo Gallery
KU attempts holiday sweater world record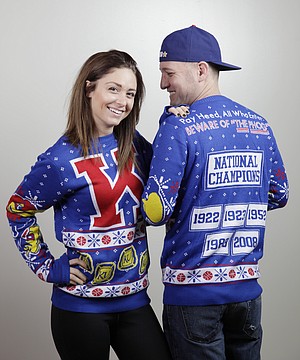 Kansas Jayhawk fans participated in an attempt to break a Guinness world record for the "Largest gathering of people wearing holiday sweaters." at the KU v. Montana game Saturday, Dec. 19, 2015.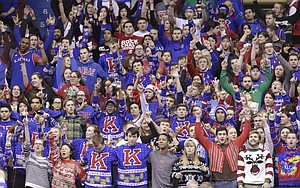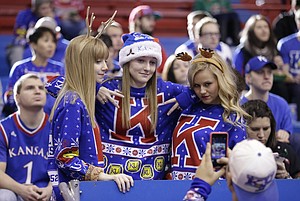 Counting three toward the total were Chelan David and his two daughters, Neah, 9, and Kylie, 7. The girls also included mention of the sweaters in one of the posters they made for the game — penned with the words, "Wearing the sweater for the team." Though both had declined to use their dad's suggested message of "my dad made me wear this sweater," Kylie did voluntarily show off her Rudolph one, complete with light-up nose and collar.
"We all love KU basketball," David said. "We thought it'd be kind of fun right before the holidays to do something together, kind of a nice family bonding."
Upon entering the fieldhouse, those wearing holiday sweaters to the game were given an "official participation" ticket, which were used to tabulate the total number of participants to submit to those at Guinness.
Ben Mauk was also enthusiastic about participating in the attempt to break the record. He wore a gray sweater with a snowflake pattern, plus a few flashy additions. Sewn onto each shoulder were children's holiday hats — one a Santa and the other a reindeer — and a flat, cardboard tree ornament attached to the sweater's front like a breastplate.
"I just wanted to be part of the original effort," he said. "Most of the stores are sold out of their holiday sweaters. We found out about it last week and got a little inventive."
— See what people were saying about the game during KUsports.com's live blog
---
More news and notes from Kansas vs. Montana
---
---
---
More like this story on KUsports.com