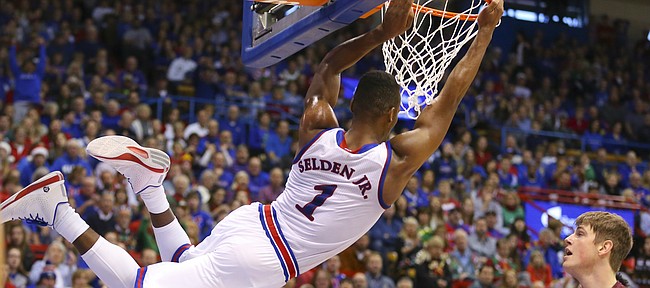 With no regard for his own personal safety, Wayne Selden, Jr., dove head first for a loose ball near the scorer's table, teammate Devonté Graham picking it up and cashing a layup in the first half of Kansas University's non-conference clash against Montana on Saturday in Allen Fieldhouse.
Selden gave up his body with the Jayhawks already up 15 points on the visitors from the Big Sky Conference.
"That wins the tough games — having energy," Selden shrugged after scoring 11 points, grabbing four rebounds, dishing four assists with two steals in the Jayhawks' 88-46 victory.
Coach Bill Self, who just loves when players hit the deck in pursuit of the basketball, marveled at the 6-foot-5, 230-pound Selden's want-to shown on the steal.
Photo Gallery
Kansas basketball v. Montana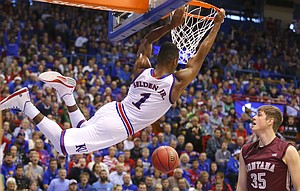 Images from the Jayhawks' Saturday game against the Grizzlies at Allen Fieldhouse
"The play he made was probably the best hustle play we've had this year," Self said, adding, "We've had several. That was probably the best we've had."
Selden, who hit 5-of-10 shots but was 0-for-4 from three, actually was a human highlight-reel in the contest.
He had a no-look pass to Carlton Bragg for a layup, a lob from the perimeter that resulted in a dunk by Cheick Diallo and a lob from half court — yes, half court — to Bragg for an alley-oop slam.
Podcast episode
Kansas coach Bill Self answers questions after the Jayhawks' blowout victory against Montana. Self addresses the ongoing struggle to determine which big men to play and more.
"I just saw him running. He called for it. If you call for it, you've got to go get it. He went and got it," Selden said of the 6-foot-9 Bragg skying to grab and finish the half-court lob. "He gave me a signal with the hand. We'd never practiced that before. We've never practiced throwing a lob that far," he added.
Bragg's version: "I kept running the floor. His vision ... looking up. We saw each other. I raised my hand. He threw it. We connected."
For the day, Selden committed just one turnover. For the season, he has 32 assists, 18 turnovers.
Podcast episode
Kansas basketball players Perry Ellis, Carlton Bragg and Svi Mykhailiuk meet with reporters following the Jayhawks' 88-46 dismantling of Montana, at Allen Fieldhouse.
"I used to play quarterback, Pop Warner. Not in high school, but growing up," said Selden, a native of Roxbury, Massachusetts.
Selden also stormed down the lane for his own vicious dunk.
"I feel if I'm out there, nobody should stop me," Selden said. "I try to have my whole team think like that. Once we think like that, it'll be tough to beat us."
KU senior forward Perry Ellis, who had scored 13, 12 and 12 points the previous three games, scored 18 points off 4-of-7 shooting. He was 10-of-10 from the line and grabbed nine rebounds in 24 minutes.
"Perry looked like Perry," Self said. "I thought he was much more aggressive and decisive today than what he had been the last couple weeks."
Self had recently said he expected Ellis to play like an All-American.
"I know myself I haven't been playing to the level I want to play at," Ellis said. "I realize that. He's just continually motivating me trying to get me to play at that level again. The key thing is the attacking part."
Ellis scored seven points as KU raced to an 18-7 lead.
"I felt at the beginning I was being real aggressive. That's all they (coaches) are always asking of me," Ellis said. "I got out and started attacking and not worrying about what's happening. Good things were happening for me."
Frank Mason III had nine assists, no turnovers to go with his seven points. Also, Brannen Greene, who made the third start of his career, hit three threes and scored 11 points, while Svi Mykhailiuk, who actually played some point guard during a seven-minute stretch the final half, had 10 points.
Bragg had nine as did Devonté Graham, who came off the bench as penalty for arriving late for the first team activity of the morning.
Hunter Mickelson had seven rebounds and Landen Lucas six.
"The main focus was putting two halves together. I felt we did that," Ellis said.
Indeed, the (9-1) Jayhawks who held (4-6) Montana to 26.4 percent shooting, scored 44 points in each half. Montana netted 24 in the first and 22 in the second.
"We were pretty sound in all phases," Self said. "They missed some shots they normally will probably make. They won't shoot 26 percent again this year. I felt all 11 guys who had a chance to play ample minutes played well."
KU will next meet San Diego State at 10 p.m., Central time, Tuesday, in San Diego.
— See what people were saying about the game during KUsports.com's live blog
---
More news and notes from Kansas vs. Montana
---
---
---
More like this story on KUsports.com