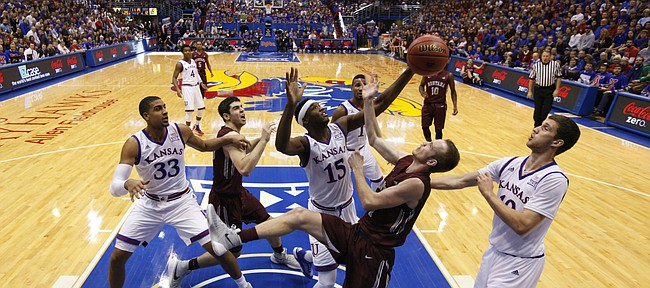 Montana basketball coach Travis DeCuire opened his post-game news conference following Saturday's 88-46 drubbing by No. 2 Kansas with four words that would have worked as a replacement for any of the detailed answers he gave during the next five minutes.
"How 'bout that team," DeCuire said after Montana surrendered 44 points in each half to the faster, deeper, stronger, more talented Jayhawks.
Coach, why did Kansas get off to such a fast start: "How 'bout that team?"
Coach, what was it about the Jayhawks that made it so tough for your guys to score: "How 'bout that team?"
Photo Gallery
Kansas basketball v. Montana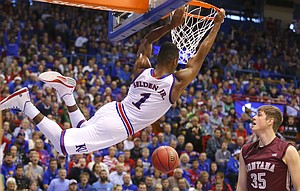 Images from the Jayhawks' Saturday game against the Grizzlies at Allen Fieldhouse
Coach, why do you think KU out-rebounded you by 18, including a 34-17 edge on the defensive glass: "How 'bout that team?"
DeCuire, of course, did not go with the love-it-or-hate-it approach favored by Seattle Seahawks running back Marshawn Lynch during the post-game. Instead, he was happy to break down the game and the Jayhawks following the 42-point loss. For him, Saturday's run-away proved one thing: Kansas is a team with very few flaws.
"They play a style of basketball that weaknesses don't jump out and they're hard to exploit," DeCuire said. "It's a talented team that knows how to make adjustments and they're very well coached. They're good enough to keep the game simple, so it's very difficult to find those weaknesses, because they play a simple style of basketball that allows them to play hard, play aggressive and not make many mistakes, and also play a lot of guys. When you have talent like them and you're disciplined like they are, you can play like that."
Podcast episode
Kansas coach Bill Self answers questions after the Jayhawks' blowout victory against Montana. Self addresses the ongoing struggle to determine which big men to play and more.
The Jayhawks (9-1) did just that from start to finish against an overmatched Montana team that had hoped to pack the paint and make Kansas beat it from the outside. The Jayhawks shot a couple of points below their average from three-point range — 7-of-16 for 44 percent — but knocked down a good number of deep two-point jump shots that were the product of an in-game adjustment to Montana's defense.
McCuire said he noticed on film that KU's guards had not come around ball screens and pulled up for jump shots much this season, so the Grizzlies (4-6) game-planned that way and took their chances. The Jayhawks responded by knocking down enough jumpers to ensure that Saturday's game would not be close. KU led 44-24 at the break and gave up two points fewer in the second half en route to the easy victory.
Podcast episode
Kansas basketball players Perry Ellis, Carlton Bragg and Svi Mykhailiuk meet with reporters following the Jayhawks' 88-46 dismantling of Montana, at Allen Fieldhouse.
"I think they're a very good basketball team that figures out what you're trying to take away and what you're giving them and they make you pay," DeCuire said.
Montana forward Martin Breunig, who entered the game as the Grizzlies' leading scorer, finished 3-of-12 from the floor for nine points and six rebounds in 26 minutes.
"Their defense, their length, their physicalness, when we got to the basket they contested shots and made it very difficult," DeCuire said.
Added Breunig, who said the team did not start the way it needed to to compete: "I just think we had to match the intensity. They came out ready to play and were strong with us and we didn't match that intensity."
— See what people were saying about the game during KUsports.com's live blog
---
More news and notes from Kansas vs. Montana
---
---
---
More like this story on KUsports.com