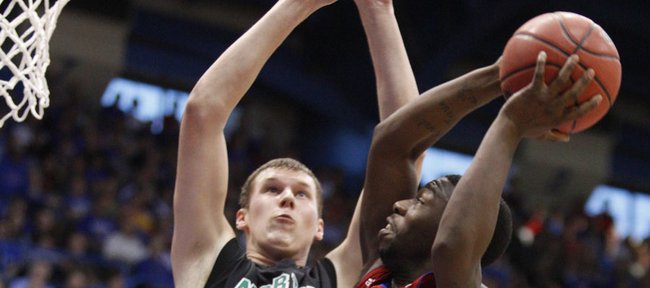 Podcast episode
Kansas coach Bill Self talks to reporters following the Jayhawks' 84-58 victory over North Dakota on Dec. 31, 2011.
Videos
KU vs. North Dakota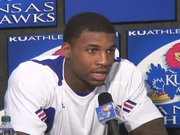 Kansas head men's basketball coach Bill Self addressed the media after defeating North Dakota, 84-58, on Saturday, Dec. 31, 2011 at Allen Fieldhouse.
KU vs. North Dakota
If he keeps playing like this, Kansas guard Elijah Johnson might consider bringing a family member to all of his home games.
With his uncle, Prince Couisnard, in attendance Saturday, the 6-foot-4 junior Johnson posted 11 points, seven assists and just one turnover in the Jayhawks' 84-58 victory over North Dakota.
"Whenever my uncle's around, it does something different to me," Johnson said. "It's like having my dad there (and) just gives me that extra boost to look in the crowd and see somebody that I recognize."
The two have a closer uncle-nephew relationship than most, as Couisnard handled most aspects of Johnson's recruiting in high school. Couisnard had been through the process before. His sons P.J. (Wichita State) and Jay (UMKC) were Div. I basketball players.
"I love him, and he's just a great person to be around with all his encouraging," Couisnard said. "He loves to make everybody better around him."
Against Ohio State on Dec. 10, Johnson scored 15 points on 5-for-7 three-point shooting with his dad, Marcus, watching him.
Couisnard, who lives in Houston, actually didn't tell Johnson he was coming until Wednesday. After driving 10 hours from Houston to watch his daughter, Tiffani, play basketball for the University of Tulsa, Couisnard made the three-hour trek to Lawrence.
"You can't say enough about the coaching staff here," Couisnard said. "Coach (Bill) Self is just tremendous with developing him."
The area where Johnson struggled most Saturday was his three-point shooting. He made just two of 10 three-pointers, while KU as a team hit just six of 27 (22 percent).
Johnson, who has made 31 percent of his threes this year, isn't worried about his mini shooting slump.
"I try not to focus on it," Johnson said. "I've been thinking about it too much, and that's the problem. I know I can shoot the ball."
Self said Johnson could help KU's offense even more by being more aggressive. The coach pointed to the fact that KU guard Tyshawn Taylor has 87 free throws this year, while Johnson has just 11.
Self said Johnson was limiting himself to two options when he received the ball: shooting or passing. The coach would like to see him drive it when he's not shooting it.
"He can get his shoulders past people," Self said. "... He's just kind of being a ball-mover, and he's too good to be just that."
Johnson believes he still can improve defensively as well.
"I can do more," Johnson said. "I feel like I can get a couple more steals a game. I can definitely steal four or five rebounds a game."
At the end of nonconference play, Johnson is third on the team in scoring with 10.2 points per game and second in assists with 2.9 per contest.
"It's confusing, honestly, because some days I feel like we've made so much progress," Johnson said. "I feel like we're looking like the team from my freshman year, just the way we play in practice and get up and down the floor. Some days, I feel like we take steps back.
"But I feel like we're getting to that point now where we're just taking steps forward."