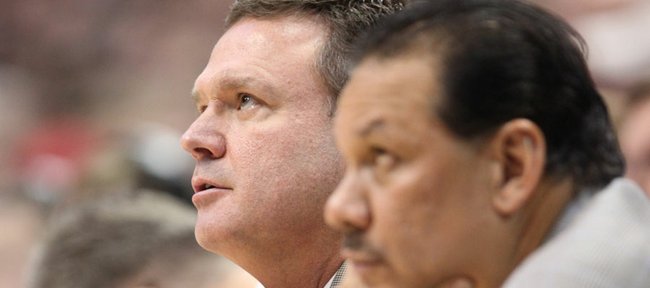 Podcast episode
Kansas coach Bill Self talks to reporters following the Jayhawks' 84-58 victory over North Dakota on Dec. 31, 2011.
Videos
KU vs. North Dakota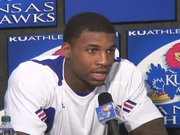 Kansas head men's basketball coach Bill Self addressed the media after defeating North Dakota, 84-58, on Saturday, Dec. 31, 2011 at Allen Fieldhouse.
KU vs. North Dakota
Lost in the justifiable marveling at just how terrific — substantively, stylistically and statistically — a game Thomas Robinson played Saturday was the nagging reality that the junior forward has so few teammates ready for the rigors of Big 12 basketball.
If most Bill Self benches are made of steel and bolted to the ground, this one's made of plywood and balanced on golf tees.
Self considers senior marksman Conner Teahan one of his six starters. Based on that guideline, post player Justin Wesley, 'tweener Kevin Young and rookie Naadir Tharpe form the bench. They combined for 49 largely encouraging minutes in Thursday's blowout victory against Howard.
Saturday, in the final sparring session before the relentless Big 12 schedule begins in Allen Fieldhouse against always-physical Kansas State, the three newcomers vying for minutes off the bench only played a combined for 18 minutes in an 84-58 tagging of North Dakota.
Self second-guessed Self for giving each player six minutes of time on the floor in the final game in a long while in which he could experiment without risking losing.
"I think I played them more than they deserved to play," he said, without naming names. "There were guys out there, to me, they started their New Year's Eve festivities around 2 p.m., whatever they're going to do. I shouldn't have played them as much as I did."
He lumped starting center Jeff Withey (two points, two rebounds and two turnovers in eight minutes) into that category.
In 18 minutes against North Dakota, the bench trio didn't contribute a point or an assist, a blocked shot or a steal, and had two rebounds and two turnovers.
Tharpe, who played so well in the exhibition season and in the season opener against Towson, hasn't yet looked comfortable against stiffer competition, has made 4 of 19 shots on the season and just 1 of 10 against schools from BCS conferences. He didn't look confident against North Dakota either. He might be a year away from making a major contribution.
Wesley works hard defensively and on the boards, but has shaky mitts and averages 8.7 personal fouls per 40 minutes.
Young has had flashes of brilliance, most notably a 14-point effort in the victory against Ohio State. He shoots well, skies, and has the speed to beat opposing big men down the floor. Yet, he sometimes seems surprised when the man he's guarding does what the scouting report tells him to do, which is blow by him on the dribble when you have the ball, cut hard to the hoop and be rewarded with an easy bucket when you don't have it.
"You look at it from my perspective," Self said. "Two guys on our (Thomas Robinson and Travis Releford) team got an offensive rebound, and we're getting ready to play K-State on Wednesday. Not good. Not good."
He stated the qualifier that he wasn't counting the last two minutes of garbage time in citing that statistic.
"That's a bad sign," he repeated. "And when you have your other bigs, the balls hit their hands and we don't secure rebounds, which happened six or seven times in their limited minutes, that's a bad sign when you're getting ready to play K-State on Wednesday."
Did he happen to mention Kansas State comes to Allen Fieldhouse on Wednesday?
In keeping with the tradition established in one year in Manhattan by Bob Huggins, it can be said of Frank Martin's teams that their best offense is a missed shot. They crash hard at both ends, and Robinson will need more help than he received against North Dakota.
Self coached against the Fighting Sioux — the mascot is dead, long live the mascot, more egg on the NCAA's face — and the Wildcats on Saturday. He continued to coach against Kansas State during his post-game remarks.
Asked again about the bench, he said, "It's just awful. I like them, but I mean, they know what I want from them. To just play so soft ... so soft. Point guards have a certain role they have to do; big guys, everybody's got a role they've got to do to give our team the best chance, and tonight I could have played those guys more, but I'll be honest with you, I don't think they deserved to be out there."
Aside from Withey, the other five "starters" averaged more than 31 minutes in the blowout.
"We made it real clear at halftime," Self said of the other rotation players, "they each got a minute to prove me wrong. They didn't. So they knew. Jeff has really had a pretty good year so far, but that was ridiculous tonight."
The brutally honest words might help Withey to channel his Duke performance and Young his Ohio State effort for the conference opener, which has a shot at shaping up as a thriller.
• A previous version of this story has been updated.