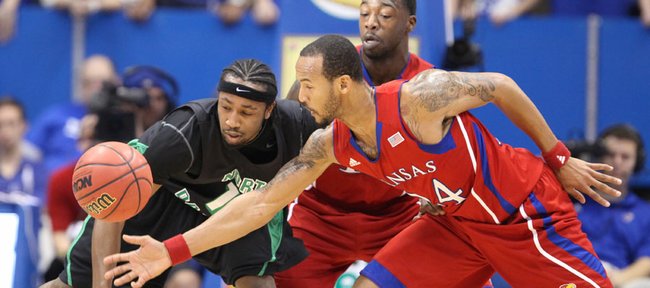 Podcast episode
Kansas coach Bill Self talks to reporters following the Jayhawks' 84-58 victory over North Dakota on Dec. 31, 2011.
Videos
KU vs. North Dakota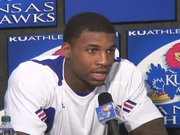 Kansas head men's basketball coach Bill Self addressed the media after defeating North Dakota, 84-58, on Saturday, Dec. 31, 2011 at Allen Fieldhouse.
KU vs. North Dakota
Saturday was a historic day for the University of North Dakota men's basketball team, but not just because UND played its second game in Allen Fieldhouse or made its first appearance on an ESPN network.
The Fighting Sioux's 84-58 loss to No. 17 Kansas University marked the final time the school would compete with its nickname intact.
Beginning Sunday, all of UND's athletic teams simply will be known as the University of North Dakota. No mascot. No nickname. And, really, only part of its 81-year identity.
"It was special to us," said UND coach Brian Jones of his team's final competition as the Fighting Sioux. "I talked about going out and representing not only our program, but representing our former athletes and alums who have a lot of passion for this. Understand that there has been a lot of tradition behind that. We just wanted to go out and represent our community and our university in a proud way. The score was big, but we really played hard. We played together and we played within ourselves, which we really wanted to do."
UND's mascot — originally the Sioux in 1930 and changed to Fighting Sioux during the 1960s — has come into question because of its tie to the various Native American tribes of the Sioux nation. For years, athletic teams at all levels have been involved in legal battles regarding the use of Native American mascots and nicknames, with many going as far as to change them to end the squabbling.
Despite documented support from several Sioux leaders, that's what UND is doing here in an effort to appease the NCAA, which officially has dubbed the nickname — and others like it — offensive.
According to reports, continued use of the moniker would expose the Grand Forks, N.D.., university to NCAA penalties, including a ban on playing host to postseason competition and complications in its effort to join the Big Sky Conference in 2012.
Lawmakers in North Dakota have fought for UND to keep its Fighting Sioux name, even going as far as to propose an amendment to the North Dakota state constitution that specifically addresses UND's ability to use the name. But the NCAA has persisted, so the school has agreed to drop it, effective Sunday.
"It's been getting brought up for a while now," junior forward Jordan Allard said. "We have a great community up there that has been behind that name for a while. But if it causes issues with anybody that will affect our program, we'll be all right without it."
UND guard Aaron Anderson shared Allard's point of view, but admitted that moving forward without a name would be weird.
"It'll be different," Anderson said. "But you put the school first. I've heard a lot of people want us to keep the name, but we really have no control over it."
For much of Saturday's loss to Kansas, the Fighting Sioux embodied their soon-to-be old nickname. They scrapped and made KU work hard for everything in the first half.
"This opportunity, for us, was a big one," Jones said. "And I was really proud of our effort and our resiliency against a team (like) that. They're talented in many ways."
In the second half, KU took over, led by a monster game from junior forward Thomas Robinson, who finished with career-highs of 30 points and 21 rebounds.
"Tape and DVDs do that young man no justice with the size of his body and strength," Jones said. "You just have to keep mixing up your coverages on him. But he's a tough matchup because he can handle it, he scores in the open floor, he goes to the backboard and he's so patient."
North Dakota's next game — and its first as a team without a nickname — comes Wednesday against Mayville State. Kansas (10-3) also will play Wednesday, at home against Kansas State.