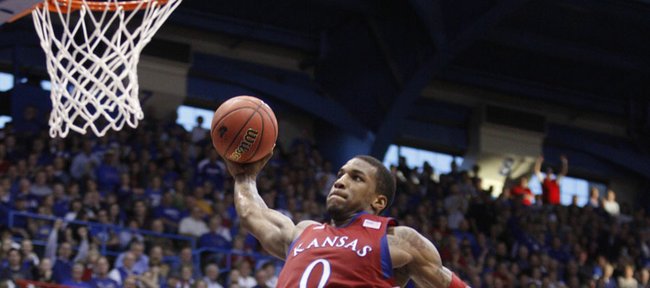 Podcast episode
Kansas coach Bill Self talks to reporters following the Jayhawks' 84-58 victory over North Dakota on Dec. 31, 2011.
Videos
KU vs. North Dakota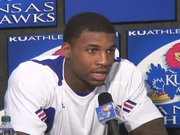 Kansas head men's basketball coach Bill Self addressed the media after defeating North Dakota, 84-58, on Saturday, Dec. 31, 2011 at Allen Fieldhouse.
KU vs. North Dakota
The only players in Big 12 men's basketball history to score 30 points and grab 20 rebounds in a game are ...
• Blake Griffin (twice)
• Kevin Durant
• Michael Beasley
• Mario Boggan
• ... and Kansas University's Thomas Robinson.
"Nice names right there," Robinson, KU's junior power forward from Washington, D.C., said with a smile, after setting career best marks in points (30) and boards (21) in the Jayhawks' 84-58 rout of North Dakota on Saturday in Allen Fieldhouse.
"That's good company," chimed in senior guard Tyshawn Taylor, who also had a big day with 18 points and five assists.
Robinson hit 10 of 14 shots — including the first three-pointer of his career — and nine of 12 free throws. He grabbed 13 defensive rebounds and eight offensive, all adding up to KU's first 30/20 performance in 50 years.
Wayne Hightower scored 36 points and secured 21 rebounds in an 88-73 victory over Missouri on Feb. 13, 1961. The incomparable Wilt Chamberlain is the only other Jayhawk to hit for 30 points/20 rebounds (seven times).
"It definitely was a great accomplishment to get that," Robinson said after grabbing the most boards by a Jayhawk since Nick Collison's 21 versus Syracuse in the 2003 NCAA title game. Robinson's 30 points were most by a Jayhawk since Marcus Morris' 33 versus Iowa State last season.
"Coach's big thing before the game was to get momentum before conference, to send a message and get in the flow of everything. We wanted to make a statement today that we're ready," Robinson added.
KU will meet Kansas State at 7 p.m., Wednesday, in Allen Fieldhouse in the Big 12 opener for both teams.
Coach Bill Self can only hope Robinson plays as well as he did Saturday. The 6-10, 237-pounder passed quickly out of double-team situations on a day he tied a career high with four assists.
"If I didn't get those assists, I probably wouldn't have 30 points," Robinson said. "Coach has been stressing to me for 90 percent of the season if I learn how to play the game outside of the double-team, eventually the offense would come through me. I fought it a little bit. I finally listened to him and the man knows what he's talking about."
Self smiled when told of Robinson's comments.
"That's nice of him to say that," Self said. "Thomas gets frustrated too easy. Teams that double-team him ... the best way to get them not to double-team him is to be very effective passing the ball out of double-teams as opposed to going one-on-two. I told him if we were patient and he became a better screener and passer, he'd score more points. He certainly had an opportunity to today. He only took 14 shots and still gets 30."
Self said he's been especially proud of Robinson during this holiday season — Robinson's first Christmas without his mom, grandmother and grandfather who all died in a month span last winter.
"This is a tough time of year for him. It is so good to see him come out and play. He played with joy today, the first time I think he has played with joy in a while," Self said.
"The last few weeks have been very trying for him. He's handled it pretty well. I don't think he'll ever completely get over it. Maybe do a little better each and every year as you move forward."
Robinson was able to spend some time with his sister, Jayla, over Christmas in Washington, D.C.
"She's doing well. Thomas is happy about that. He feels good about that situation knowing she is doing well (living with her dad) and is healthy. I think that's a big relief for him coming back after Christmas," Self said.
Robinson said he's been pleased with his play so far for the Jayhawks, who went 10-3 during the nonconference season.
"I wanted to be the best player in the country, to achieve the expectations set for me. It was something I'd never seen before," Robinson said of preseason expectations. "I didn't want to let anybody down. We still have a long year ahead and we have a lot of goals to meet."
Of his improvement since last season, he said: "I can't even put it into words. I know I'm a better player. I am more patient. I know more about the game. It's all about having more experience on the floor. I'm still getting better."
Robinson and Taylor scored 12 points apiece the first half as the Jayhawks took a comfy 37-21 lead into the break. Travis Releford scored 11 of his 14 points the second half, while Elijah Johnson netted 11 total points and Conner Teahan nine. Jeff Withey, who was ineffective in a short eight-minute stint, had just two points and two boards. Nobody else scored.
"I thought Tyshawn and Elijah did some good things, but we can't go 6-for-27 from three, that is ridiculous," Self said. Johnson was 2-10 from three; Teahan 1-6 and Taylor 1-3. "We have better shooters than that, but our two best ones go 3-for-16. We will do better than that, but we did some good things today and I thought the guys that played the majority of the minutes did some really good things offensively."
As far as the story of the day ... "Thomas scored the most points ever, gets the most rebounds and he played the most unselfish he's ever played. I thought he played great. He needed that. That was really good," Self said, adding, "He is a terrific kid."