Podcast episode
Kansas coach Bill Self talks to reporters following the Jayhawks' 80-74 loss to Davidson on Dec. 19, 2011.
Videos
KU vs. Davidson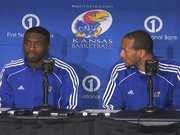 Davidson defeated Kansas, 80-74 on Monday, Dec. 19, 2011 at Sprint Center in Kansas City, Mo.
KU vs. Davidson
Kansas City, Mo. — If Kansas University basketball coach Bill Self sounded Monday night like a man who has been working without his two best friends this season, well, maybe that's because he has had to make that adjustment.
A basketball coach's two best friends are not his whistle and chalkboard. They aren't his contract and fan club.
Any coach's two best friends are his carrot and his penalty box. The carrot he holds is known as playing time, the penalty box a folding chair a few seats down the row. The carrot goes to those who apply the detail given to them in preparation for the opponent. The penalty box is where players who don't follow the script go to watch the game.
Until Mario Chalmers hunkered down and learned how to play tough defense and until he kept the ball moving through the air instead of bouncing it off the floor and grinding the offense to a halt, he sat and watched the less talented, more experienced Jeff Hawkins hear the Allen Fieldhouse ovations that come with starting-lineup introductions.
Any relapses from an older Chalmers meant he had to watch Sherron Collins in his place.
It's much tougher for Self to dangle a carrot or point to a seat on the bench when handcuffed by such a shallow roster.
In the wake of Monday's 80-74 loss in the Sprint Center to Davidson in which KU needed to defend well for two halves and didn't do so in the second, Self pinpointed how his team's lack of depth hurts the most.
"To me, this is what I really think, and this could be coaching, this could be a lot of things, so I'm not putting the blame on the players," Self said. "I'm not putting the blame on really anybody. But the reality of it is, depth is such a great thing. But depth isn't great because of injuries, and depth isn't great because of foul problems. Depth is great because when guys don't play the way you want them to, they don't have to play. That's why depth is great. Everybody who says other things, no, that's it."
A year ago, if Thomas Robinson stayed nailed to the opposite block when his fellow post player got pump-faked into the air and driven around, Self could have found a seat for him and let him watch the Morris twins play together for a long while. Now, he can take him out, tell him why he was taken out, then have to put him back in there before the sweat even dries.
A year ago, if Tyshawn Taylor drove the baseline, leaped into the air, turned his head left and threw a pass into a sea of red jerseys, Self could send him to the corner and let him watch Elijah Johnson for a while.
Gold stars on the forehead and barstools in the corner with back to the rest of the classroom come at such a great risk with this team because of the huge talent drop-off.
"We just don't have guys who can come in yet and us not skip a beat," Self said.
Ben McLemore and Jamari Traylor might have been those guys, but the NCAA declared them ineligible. Naadir Tharpe and Kevin Young could get there, but until that happens, if it does, it's on the starters to realize that if they don't play consistently tough defense and value every possession, such losses as Monday's won't come as much of a surprise anymore.