Podcast episode
Kansas coach Bill Self talks to reporters following the Jayhawks' 80-74 loss to Davidson on Dec. 19, 2011.
Videos
KU vs. Davidson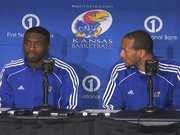 Davidson defeated Kansas, 80-74 on Monday, Dec. 19, 2011 at Sprint Center in Kansas City, Mo.
KU vs. Davidson
Kansas City, Mo. — Mid-major Davidson's 80-74 victory over No. 12 Kansas University on Monday night certainly would be considered a major upset in the eyes of most college basketball fans.
Not in the realm of KU coach Bill Self, however, who has seen enough of his team to realize the 2011-12 edition of the Jayhawks (7-3) are ripe for the picking on any given night.
"I don't know if you can take as much from this game as maybe other games," Self said, asked about some of KU's losses to mid-majors in the past. "This team is not that good."
The Jayhawks, who had defeated No. 2-ranked Ohio State nine days ago, trailed by as many as 11 points in the first half versus the Southern Conference team. KU had it tied at 55 with 6:33 left, but was vastly outplayed down the stretch by a squad that committed zero second-half turnovers.
"Other games where you are more talented and somebody beats you, you could consider it an upset. That wasn't an upset tonight," Self reiterated.
"We need to be mentally sharp every night we play. There's not as much margin for error (this year). We weren't sharp. This team is not mature enough to understand we have to play really well to beat the teams that maybe they (KU players) don't think are our equals, which is total crap. This (Davidson) team was our equal. We knew it coming in, and they played like it tonight.
"This is what the reality check is ... we've got to be really focused, play really hard and play really smart and play to our strengths to have a chance to beat anybody on our schedule."
Self said his Jayhawks flat-out were not ready to play in falling behind 7-0 and 26-15 early.
"They controlled the game. They whipped us," Self said. "I thought we had a good, spirited workout today and pretty decent practice yesterday. I thought we'd be ready to play, but we weren't."
A 13-0 run that erased the 26-15 deficit was about the only KU highlight of the game. The Jayhawks led, 28-26, with 3:41 left in the half, but by half's end, lagged by one point, 33-32.
"Even though we were only down one at half, it was an ugly one," Self said. "It felt like it could have been six, eight. Our first-half defense kind of kept us in it. Our rebounding stunk (KU outboarded the Wildcats, 43-40, but was outboarded, 21-17, the first half). They had 12 turnovers, we had nine steals. It was one of our emphasis. We've got to get active with our hands. The second half, they played perfect. It's unbelievable how well you can do if you don't turn the ball over. They didn't have any turnovers; we had no steals. We didn't create anything the second half.."
Junior Travis Releford (eight points on night Thomas Robinson led the way with 21) said the problem was mental.
"We come out and aren't ready to play as a team," Releford said. "That hurts us because we are playing catch-up the whole game. We can't come out and do that. We came out very sluggish."
And played sloppy.
"The guys," Self said, "don't understand that possessions early in the game still count. We wasted so many possessions early it allowed them to get comfortable. When you allow teams to get comfortable, they get confidence."
KU hit 40.3 percent of its shots, just six of 23 threes.
"It says 6-for-23. We were 3-for-20 because we made three when the game was over," said Self, whose squad saw the 55-55 tie turn into a 73-65 margin with 1:05 left. "They made 11 threes (in 33 tries). They make free throws (19-for-25), and we don't (18-for-31). As poorly as we played, and we certainly didn't get stops when we needed to, if we make free throws at a better percentage and don't go 3-for-20, the outcome could possibly have been different."
As far as the fact KU may have been rusty in not playing in nine days (since the pulsating win over Ohio State), Self said: "I think Davidson had finals, too, so I'm not buying into any of that."
KU will meet USC at 10 p.m. Central time Thursday at Galen Center in Los Angeles.
More like this story on KUsports.com