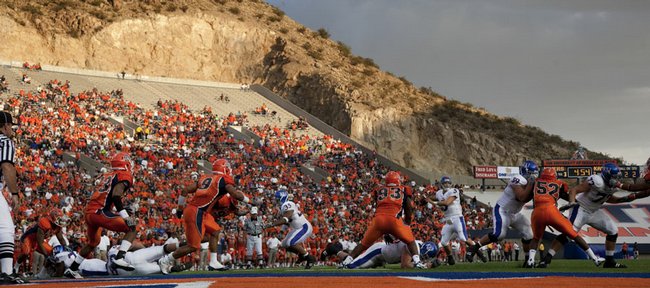 Reader poll
Maxwell Onyegbule

29%

427 votes

Jake Sharp

49%

724 votes

Daymond Patterson

1%

28 votes

Dezmon Briscoe

10%

159 votes

Jeff Wheeler

6%

90 votes

Other

1%

26 votes
1454 total votes.
More from the game
El Paso, Texas — UTEP coach Mike Price stood calmly in the postgame news conference, his message much like a famous rant from former Arizona Cardinals coach Dennis Green.
The basic gist of it — similar to Green's tirade after a 2006 loss to the Chicago Bears in which the Cardinals blew a 20-point lead — was this: Kansas was who the Miners thought they were.
"Pretty much what we expected is what we saw," Price said after his team's 34-7 loss to KU on Saturday at the Sun Bowl. "We just couldn't stop it."
UTEP's biggest issues were on the offensive line. The Miners surrendered six sacks to KU and had just seven total first downs —their lowest total since having seven first downs against SMU in 2001.
"What surprised us, I think, is that they were so good," Price said. "Nothing that they did that I recall was anything new that we hadn't seen on tape or that we weren't prepared for. So we knew what they were going to do. They were just in a four-man rush, they played a lot of cover-2 and cover-4 — just straight coverages, pretty basic — and they just did it real good."
UTEP's seven points were the fewest in a game during Price's six-year tenure.
"They have four guys, and they're real guys," Price said of KU's defensive linemen. "They came, and they twisted, and they did the things that they did before, and we couldn't hold up to it."
UTEP quarterback Trevor Vittatoe threw for just 187 yards, the third-lowest total of his 26-game career. He finished 14-for-25 with a touchdown and an interception.
"They really caught us off-guard," Vittatoe said. "I wasn't expecting that. We tried a lot of different things, and we failed at a lot of them.
"I don't know if it was execution on our side or if it was them just beating us the way that they did."
UTEP mustered just 208 yards of total offense. It was just the third time in the last 30 games that the Miners had been held under 300 yards.
It didn't help that UTEP's offense often was moving in reverse. A week after committing 12 penalties for 101 yards against Buffalo, the Miners had 13 flags for 137 yards against KU.
"Our penalties weren't from knocking (KU) on their butts," Price said. "They knocked us on our butt."
Price admitted that many of his players were beat-up after the game.
"We have a lot of bad sores and headaches and pulled muscles and stuff," Price said. "That was a physical game. They out-physicaled us."
More like this story on KUsports.com