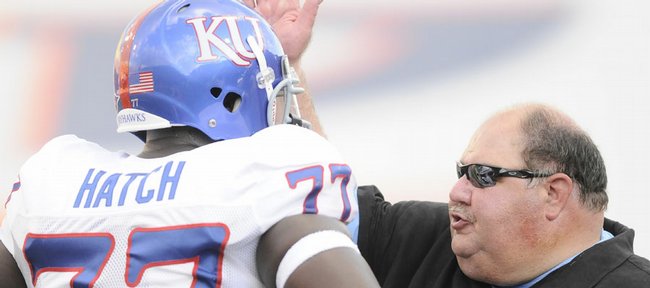 El Paso, Texas — After a 2008 season in which the defensive secondary underwent a massive overhaul, playing what essentially amounted to a game of musical chairs, members of the Kansas University defensive backfield have grown accustomed to adapting quickly.
So when a handful of position switches were made prior to KU's 34-7 victory over host Texas-El Paso on Saturday, players didn't struggle too mightily.
"It was cool," said senior Justin Thornton, who played nickelback for the first time this season. "It wasn't too bad this time. Being a veteran, I've played the last four years, so I kind of know what's going on, and it wasn't too tough."
Chris Harris, after earning team defensive player of the week honors as a nickelback against Northern Colorado, started Saturday's game at cornerback, while Thornton, who is played both cornerback and safety, shifted to the nickel, and Phillip Strozier started at safety.
Anthony Davis, who was flagged for three pass-interference penalties last weekend, was on the bench to start the game.
"It was based out of necessity," KU coach Mark Mangino said of the changes. "Anthony had a rough week last week, and nobody felt worse about it than him. We haven't given up on him. Part of coaching is, you've got to understand when kids are down a little bit, need recharged a little bit, need a confidence boost."
Snapping problems a concern
For the second straight game, snapping problems plagued an otherwise impressive performance from the Jayhawks' offensive line.
Starting center Jeremiah Hatch — who Mangino said was suffering from flulike symptoms — was replaced by Brad Thorson, a former center at Wisconsin who had started the season at left guard.
Thorson struggled a bit in his position debut, however, committing a number of snapping miscues that Mangino later said were the result of entering the game with limited warm-up time.
"Those are fundamental things we can get worked out here in the next couple days," he added.
Branstetter roughed up
Kansas kicker Jacob Branstetter will be evaluated by the team's medical staff after the junior took a hard hit on a roughing-the-kicker penalty in the first quarter Saturday.
"Branstetter got the crap knocked out of him," Mangino said. "I'm not sure if he's in this universe with us right now. I looked into his eyes when he came off the field after that last attempt there — he didn't look like he was in El Paso."
Things didn't go well for the Lawton, Okla., native following the hit. He missed two kicks, one from 38 yards at the conclusion of the second quarter and another from 33 yards midway through the fourth quarter
Stuckey quiet after late-hit penalty
Kansas senior safety Darrell Stuckey turned in an unusually quiet performance a week after suffering a late-hit penalty in a victory over Northern Colorado.
Wearing a protective elbow brace during Saturday's game, Stuckey, an All-Big 12 selection last season, finished with just two tackles — his lowest total since 2007.
.
More like this story on KUsports.com