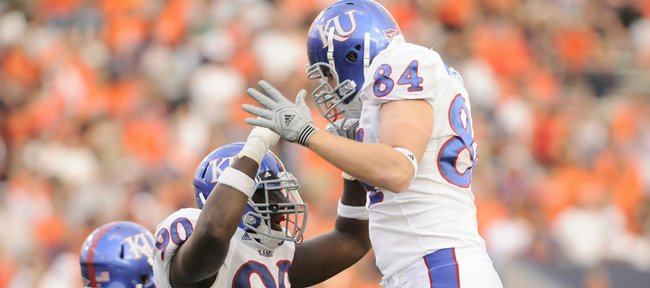 More from the game
El Paso, Texas — Bar stools across America are kept warm with former defensive backs crying into their drinks, convinced they were failures as football players, haunted by unflattering nicknames pinned on them for giving up touchdowns to flashy receivers.
Little do they know they weren't as bad as they think. Most of them just had the misfortune of playing at the back of a defense ruined by a front four that couldn't blow past blockers to send the quarterback into panic mode.
The Kansas University pass rush hasn't quite been the same since Charlton Keith and Brandon Perkins used up their eligibility. Heading into this season, the D-line was the single biggest area of concern. Defensive end Jake Laptad, strong and a fast straight-ahead runner, on paper didn't seem to have enough help.
Just as the unflattering moniker "Jake and the Pancakes" was about to be pinned on the KU D-line, Laptad's teammates showed a pulse Saturday night in the Sun Bowl. Showed some fangs, too. And some quickness.
It all added up to a relentless pass rush that played a huge part in a 34-7 bullying of UTEP on a breezy summer night in the Sun Bowl, a charming old stadium tucked in the shadow of the mountains of this West Texas border town.
How the D-line's performance will translate to Big 12 competition isn't yet relevant. Winning as the favorites is all the Jayhawks need to do to start the season 6-0, and they are one-third of the way there.
The big bodies on the defense can't do more than beat the guys put in front of them, and they did that with dominance, making for a miserable night for Miners celebrated quarterback Trevor Vittatoe.
Three series into his night, Vittatoe had been sacked three times by three different D-linemen. On the night, Kansas had six sacks with five different front-four men getting at least half a sack.
Through much of his career, Maxwell Onyegbule looked good in an airport, big and strong, built like a pass rusher. He not only looked the part against the Miners, he played it. No. 90 received credit for two sacks for 16 yards in losses and contributed another tackle for a loss among his six stops.
Defensive end Jeff Wheeler, suspended from the season-opener against Northern Colorado, after the game with curly hair and a wide grin looked and sounded a little like a laid-back, fun-loving character who stepped right out of a Will Ferrell film. He sure displayed a nastier demeanor playing. Wheeler always has been somewhat of an enigma. He would show flashes of talent, looking quick coming around the edge, then vanish. He didn't disappear Saturday.
"Jeff, this is his fifth year here, and I told him at one time, 'You know, you had four years, and you really didn't break through. This is your last year, your last go-around to make a statement and have an impact on our team.' I think he has a chance to have a big year," Kansas coach Mark Mangino said.
The pass rush looked particularly strong when in certain passing situations ends Onyegbule and Laptad moved to tackle and Wheeler and Steve Foster lined up at the ends.
"It's a different look, a changeup, speed on the inside with some power," Mangino said. "That's one of the things I like about our defense, we give you a lot of different looks, even different personnel looks."
Different looks and rotating fresh players can lessen the talent disadvantage, but the best outcome for KU would be for Onyegbule and Wheeler to blossom in a way that not only do they help KU start the season 6-0, but they enter the Oklahoma game with confidence and a shot of competing against far bigger, much faster blockers than the ones they brushed aside Saturday.
"I think we're a lot better than we have been in the past, and tonight we proved that," Wheeler said. "Everybody better watch out because the D-line is coming."
Mangino said he has noticed it coming on for weeks.
"It's not something that just happened overnight," Mangino said. "The front four have worked really hard in training camp on the fundamentals of the pass rush. (D-line coach) Tom Sims has spent a lot of time on it. I've been down there chasing the D-linemen around myself, and those kids are starting to come around. They really are."
What must that be like, getting chased by the irascible head coach?
"A little intimidating," Wheeler said.
Imagine that.
More like this story on KUsports.com