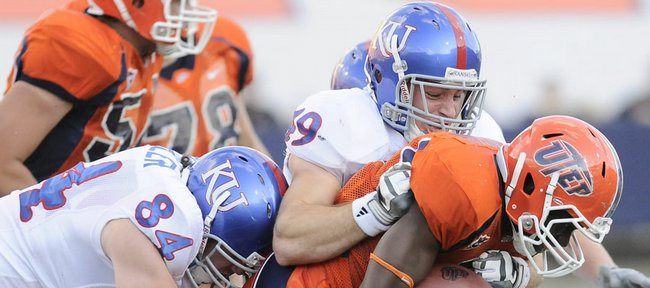 Reader poll
Maxwell Onyegbule

29%

427 votes

Jake Sharp

49%

724 votes

Daymond Patterson

1%

28 votes

Dezmon Briscoe

10%

159 votes

Jeff Wheeler

6%

90 votes

Other

1%

26 votes
1454 total votes.
More from the game
Go figure
6.1 - Kansas' average yards per rush (on 42 carries, or 255 net yards)
0.2 - UTEP's average yards per rush (on 20 carries, or 4 net yards)
2 - UTEP possessions that ended in Kansas territory
2 - possessions that ended in Kansas territory
85-576 - Offensive plays-total yards for the Jayhawks
49-208 - Offensive plays-total yards for the Miners
6-39 - Sacks-yards by the Jayhawks
137 - Penalty yards against UTEP (versus 48 against KU)
El Paso, Texas — One thing.
On the Kansas University football team's trip back home from Saturday's 34-7 victory over Texas-El Paso, the defensive unit will have just one thing to dwell on — a late-game breakdown that resulted in a 75-yard UTEP touchdown that put a blemish on an otherwise impressive performance.
"That's all (any) of us are going to be thinking about on the bus ride home, is how one play kept us from getting a shutout," senior defensive back Justin Thornton said. "That's what we really wanted."
A year ago, as the Jayhawks' defense struggled to a 114th national ranking in pass defense and gave up big plays by the handful, there would have been plenty of material to choose from on the postgame bus ride.
This year, however, expectations have changed a bit for a defense that, under the direction of second-year coordinator Clint Bowen, has been the team's high point through the first two games of the season.
"It's hard to complain," said Kansas coach Mark Mangino, whose team earned its first nonconference road victory since 2003 and improved to 2-0 overall. "We were really stellar on defense tonight."
While last week's thrashing of NCAA Championship Subdivision opponent Northern Colorado could be viewed as a byproduct of the less-than-intimidating competition, it's hard to scoff after the Jayhawks held an explosive Texas-El Paso offense — the Miners ranked 31st in the nation in total offense a year ago — to 208 total yards on the road.
Without question, the success Saturday night began up front, with a defensive line that tallied six sacks, wreaked regular havoc on Miners quarterback Trevor Vittatoe and helped hold UTEP to just four yards rushing.
Using a new-look front — usual defensive ends Jake Laptad and Max Onyegbule often were used at the defensive tackle positions, while Jeff Wheeler and Steven Foster worked as ends — the Jayhawks needed just four players to rush the passer most of the evening, allowing the secondary to sit back in coverage.
"(That) makes it way easier," said cornerback Daymond Patterson, who finished with a team-high six tackles. "The quarterback is having to think faster, he's having to get rid of the ball faster, and he's running around and scrambling, (which) makes him less accurate."
The Jayhawks' offensive unit didn't exactly struggle Saturday.
If it's possible to have a quiet 576 yards of offense, Kansas managed to do it. Receiver Dezmon Briscoe, who sat out last week's game as a penalty stemming from spring academic issues, made a grand re-entrance, grabbing eight passes for 154 yards, and for the second straight game, running back Jake Sharp eclipsed 100 yards rushing, finishing with 16 carries for 104 yards and three total touchdowns.
Still, the final offensive numbers came as a shock to Briscoe.
"We left a lot of points on the field," he said "But for us to have a bad day on offense and still score 34 points, I feel like we still did all right."
The night belonged to the defense, however, a group that now has held consecutive opponents to seven points or fewer.
Not to be overly dramatic, but the last time the Jayhawks managed that was 2007, when they finished 12-1 and won the Orange Bowl.
"That's one of the things I like about our defense," Mangino said. "We give you a lot of different looks, even a lot of different personnel looks. I think Clint Bowen and the defensive guys did a great job of getting the right personnel groupings in all night long."
More like this story on KUsports.com