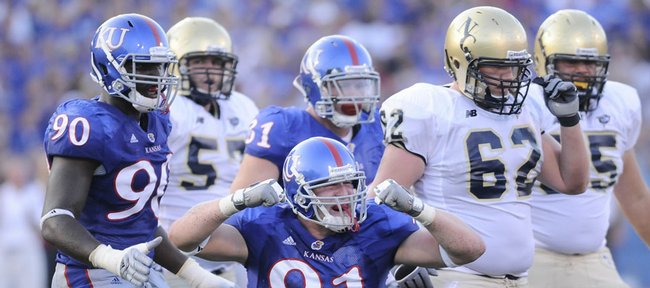 At this time last year, Kansas University's football coaching staff was fielding a steady stream of questions about the team's lack of a potent running game.
During a pass-happy nonconference schedule in 2008, in which KU would go 3-1, quarterback Todd Reesing was chucking passes at a significant clip and coaches were being asked why, exactly, such limited emphasis was being placed on such an important part of the game.
Perhaps in an effort to avoid such inquiries this fall — or, more likely, as a result of their opponent's apparent attempt to cut off the pass — the Jayhawks opened their season Saturday by racking up 328 yards on the ground in a lopsided 49-3 victory over visiting Northern Colorado at Memorial Stadium.
"Northern Colorado came in here, and I think they were determined not to let us put up big numbers in the passing game," said Kansas coach Mark Mangino, whose team won its sixth straight home opener — before a record crowd of 52,530. "They played zone. At times (they) dropped eight defenders. And we can run the ball. If you're going to do that, we're going to run the football, and we'll do it effectively."
That certainly was the case Saturday.
Working prominently out of a newly implemented pistol formation, the Jayhawks quietly chewed up yardage while giving quarterback Todd Reesing and his right arm the weekend off.
By the end of the night, three players rushed for 79 yards or more — led by Jake Sharp's 123-yard performance and a 79-yard outing by true freshman Toben Opurum — and Kansas had managed to eclipse the 300-yard rushing mark in a game for the first time since 2001.
"They were basically challenging us to run the ball," said Sharp, who also caught a touchdown pass. "... Being a spread offense, we take what they give us. And the run game is what they were giving."
The Jayhawks managed to toss it around a little, too, of course.
Despite playing without the luxury of his top receiver – junior Dezmon Briscoe was held out of the game for disciplinary reasons stemming from academic issues in the spring — Reesing kicked off his senior campaign nicely, completing passes to seven receivers, including a 71-yard bomb to Kerry Meier.
"I'm not going to lie, I like throwing the ball," said the quarterback, who in addition to completing 13 of 20 passes for 208 yards and two touchdowns also rushed for 79 yards and two scores. "We'd like to throw for 400 yards a game. But we'll do whatever we have to. That's the way this offense has gone. We're not going to try to force the passes downfield if it's not there; we'll run the ball if we have to."
Maybe the most encouraging thing to come out of Saturday's game, meanwhile, was the play of the offensive line. Entering the season, the unit, which returned just two starters, represented one of the greatest causes for concern, but looked stout in paving the way for the prominent ground attack while not allowing a sack.
And while Mangino was quick to caution that his team will see tougher defensive fronts this season, there was reason to be optimistic.
In the end, it's hard to determine what to make of the outcome.
The defensive line looked impressive most of the night — finishing with three sacks and seven tackles for loss — but allowed a handful of big runs.
The secondary held UNC quarterback Bryan Waggener to just 165 yards, but struggled at times with penalties.
Mostly, the evening went as expected against an opponent that had won a total of three games in the past three seasons combined.
"We did what we had to do," Mangino said. "That's the best way to put it."
More like this story on KUsports.com