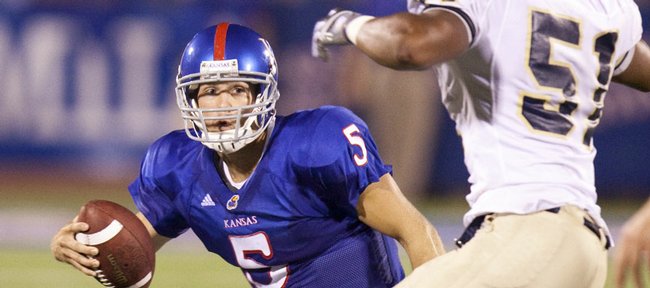 Northern Colorado's football team left Memorial Stadium on Saturday night with lasting memories of Todd Reesing.
"He's a little Mike Vick out there. He's very elusive," Bears safety Max Hewitt said after Reesing, KU's senior quarterback, rushed for two first-half touchdowns and threw for two more in the Jayhawks' 49-3 victory.
"We knew that coming in, but until you get out there ... it's something you can't simulate at practice until you see it yourself. He impressed me a lot."
Reesing completed 13 of 20 passes for 208 yards and also carried 13 times for 79 yards.
"He is back there running around like a greased pig. You can't get him down," Northern Colorado coach Scott Downing said. "We are like a lot of people they played last year. You just don't have an answer for a quarterback who can sit back there and throw, and when he takes off, he can run it or keep it alive."
Reesing certainly impressed his QB counterpart — UNC's Bryan Waggener, who completed 19 of 30 passes for 165 yards with no interceptions.
"They are a Top-25 Reesing team for a reason," Waggener said, substituting the word "Reesing" for "ranked" in his postseason comments to media.
"I think Todd Reesing just took over the game today. He made some crazy plays on third down and showed why he is one of the better quarterbacks in the nation. He's one of those guys real scrappy, knows how to get it done, finds ways to make plays all the time."
The Bears, who gained 246 yards, blew a chance to cut a 7-0 deficit to four points early when kicker Michael York misfired on a 25-yard field-goal attempt. UNC's only points came after the Bears had dug themselves a 28-0 hole.
"It was a 25-yarder, a field goal he makes every day in practice," Waggener said. "I don't know if that would have made a big difference. We've got to come out and execute regardless."
The Jayhawks stretched the margin of victory by scoring a pair of touchdowns on Toben Opurum runs in the final 4:38.
"I do feel we went toe-to-toe with them for a while. They got two scores late to kind of run up the score," Hewitt said, noting the Bears were not upset at the Jayhawks for scoring with reserves. "They were just running the ball. We could have stopped them. They had some of their backups in. We had some of our backups in. That's something they were not trying to run up the score. We've just got to make plays.
UNC, which will play San Diego on Saturday in Greeley, Colo., likely will play without at least three starters who were helped off the field due to injuries.
"We lost a couple guys," Downing said. "It's the name of the game. You'll lose guys. I told our guys, 'If you have to play, you have to play.' We'll be fine. Our guys are resilient and in good shape. It's a good game to learn from."
More like this story on KUsports.com