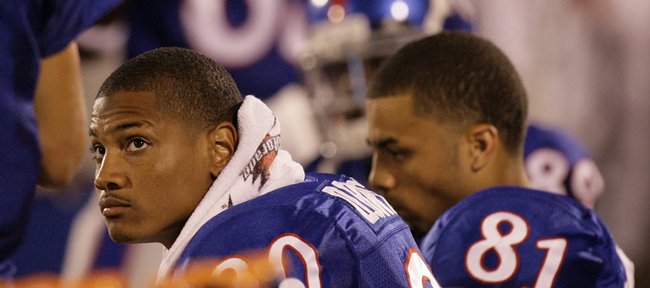 Four Kansas University football players, including standout receiver Dezmon Briscoe, were held out of Saturday's season-opening victory over Northern Colorado for disciplinary reasons.
Briscoe, receiver Raimond Pendleton, defensive tackle Jamal Greene and defensive end Jeff Wheeler were suspended for the game as punishment for a violation of undisclosed team rules.
Of the four, only Briscoe was listed as a projected starter this season. The 6-foot-3, 200-pound Dallas native earned honorable-mention All-America honors from Sports Illustrated last year after catching 92 passes for 1,407 yards and 15 touchdowns and was tapped a preseason All-Big 12 selection this fall by the league's media.
Following the game, KU coach Mark Mangino said that the suspensions of Briscoe and Greene stemmed from their earlier suspensions during spring football.
"They knew when they were suspended in the spring that part of the stipulations were that they weren't going to play in the first game," Mangino said.
"Jeff Wheeler and Pendleton's issues are different," he added. "They violated team policy, and I did not have them play tonight."
Harris makes splash
After a relatively quiet sophomore season, junior defensive back Chris Harris reintroduced himself to Kansas fans in a big way Saturday.
On the Jayhawks' first defensive series alone, Harris recorded a tackle for loss, a forced a fumble and a fumble recovery and finished the day with seven tackles and a pass break-up.
"I think Chris is one of our most improved players since last season. I really do," Mangino said. "He's into it. He's a great worker. It's important to him."
Asked about Harris' apparent struggles a season ago, after a freshman season in which he was named Big 12 defensive newcomer of the year, Mangino said, "We had him out of position. He's not a pure corner. He's a better safety, and that's where he's at now."
Davis struggles in start
Sophomore cornerback Anthony Davis might be wise to push Saturday's game from his memory.
In his first career start, Davis was flagged for three pass-interference penalties, two of which came on consecutive plays, and was eventually spelled in favor of backup Calvin Rubles.
Mangino, who blamed the penalties on nerves, said the team hasn't lost faith in the player and that he'll continue to figure prominently into the team's secondary this fall.
"There's no excuse for it," Mangino said of the penalties. "He'll learn from it and grow from these experiences."