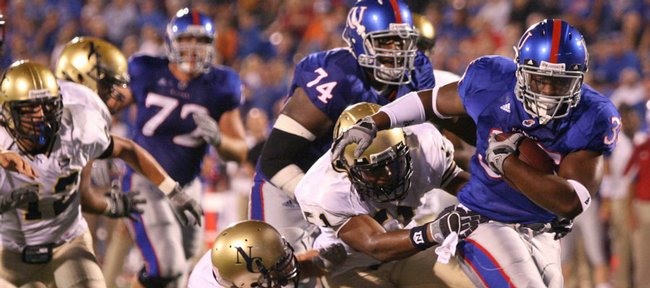 Toben Opurum already has come up with a plan to combat his insomnia next week.
"NyQuil might work," the freshman running back joked after KU's 49-3 victory over Northern Colorado on Saturday night.
The 6-foot-2, 235-pounder sure didn't look nervous Saturday in his first collegiate game, rushing eight times for 79 yards and two touchdowns.
Opurum said Friday night, though, was a different matter.
"It took me forever to go to sleep last night. All I could think about was the game — and it was a late game, too," Opurum said. "All night I was just sitting there thinking about it."
Opurum had running plays flash through his mind over and over. He envisioned how the holes would open up and how things would work out on the field.
It would have been hard for him to dream up a much better debut for himself.
In the final six minutes alone, Opurum had consecutive rushes of 17, 10, nine and 26 yards.
"Toben did a good job," KU coach Mark Mangino said. "He ran a little high. He's got to get his pads down a little bit, but you can see he's powerful, and he's quick and can read lanes pretty well to set up blocks.
"For his first night of college football, he did a good job."
Opurum wasn't the only freshman Jayhawk who impressed in the final two drives.
Quarterback Kale Pick also came in for his first collegiate play with 8:18 remaining and helped lead the Jayhawks to a pair of touchdowns.
"I really didn't have an idea of when I was going to get in," Pick said. "Probably 20 of my teammates were asking me on the sideline, 'Did you get the green light to go in yet?' That just made me more anxious."
Finally, after receiver Willie O'Quinn asked Pick for the fifth time if he was going in, KU assistant John Reagan told the QB to get ready.
"I really didn't know what to feel," Pick said. "I really didn't know what to look for (because) anything can happen."
Though Pick was a perfect 2-of-2 passing for 11 yards, it was his speed that helped the Jayhawks most. The Dodge City native's three rushes all went for at least 13 yards.
He finished with three carries for 47 yards, a 15.7-yard average.
"You can see he's talented, and he's learning, but we like him," Mangino said. "We have high expectations, high hopes for Kale. He can throw the ball really well, but you can see he's a tremendous athlete, and he can beat you with his legs, too."
As for Opurum, he vowed to apply what he learned from his first gameweek experience to the eve of Saturday's game in El Paso, Texas.
"It's the second game now. I'm kind of getting adjusted to (the nerves)," Opurum said. "Maybe I'll be able to fall asleep a little easier."
More like this story on KUsports.com