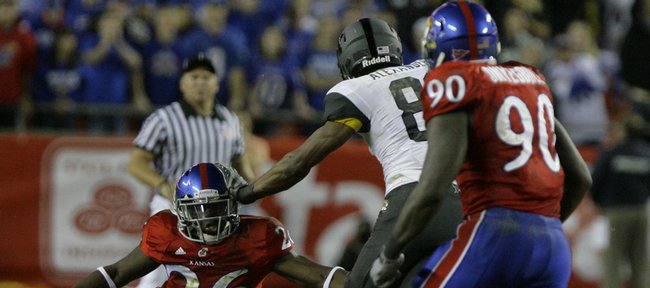 Kansas City, Mo. — The way Missouri football coach Gary Pinkel sees it, Batman must be on the voting panel for the national receiving awards.
That's the only way Pinkel can explain the absence of MU senior Danario Alexander from the short list of top receivers in the country.
"You gotta be living in a cave to not realize how good this guy is," Pinkel said. "And, I mean, it's every week. It's every single week. It's not like he goes out and has a good game and an average game and then a good game and an average game. The guy makes plays."
Saturday, during the Tigers' dramatic, come-from-behind, 41-39 victory against Kansas University at Arrowhead Stadium, Alexander made 15 of them for 233 yards and one touchdown.
For two quarters, the Kansas defense did a masterful job of controlling the Tigers' most dangerous weapon. At halftime, Alexander had just five catches for 30 yards, and KU sent three and four defenders at him every time he caught the ball.
But then came the third quarter, when Alexander strapped on his cape and transformed into a superhero. First was a 10-yard catch along the KU sideline that gave the Tigers a first down. Then came a 29-yarder for another first down, and then a five-yard gain that set up his 68-yard touchdown reception from sophomore QB Blaine Gabbert. On the touchdown, Alexander ran a short pattern across the middle, caught the ball 11 yards from the line of scrimmage, made one cut and then raced the final 57 yards untouched.
Two minutes later, he caught his 12th pass of the day, a 59-yard grab behind KU's Anthony Davis that set up a 37-yard field goal from Grant Ressel, and MU led 36-28.
Alexander had 181 yards and seven receptions in the third quarter alone.
For the season, Alexander has 107 receptions, 1,644 yards and 13 TDs, all Missouri records.
Asked how he was able to make so many game-breaking plays after a relatively quiet first half, Alexander flashed a wide smile and told the truth.
"I have no idea," he said. "I just try to be patient, wait for the ball and try to make a play when I can."
Being patient was part of the game plan. Pinkel said the Tigers strive to get the ball to No. 81 as many times as possible. If they do, the coach knows good things eventually will happen.
"He's very comparable to a guy we had playing a year ago, who plays for the (Philadelphia) Eagles," Pinkel said of former MU receiver Jeremy Maclin. "And I have no problem putting them in the same sentence."
Saturday, Alexander — all 6-foot-5, 215 pounds of him — was better than Maclin ever was against the Jayhawks. In two career games against KU, Maclin had 19 receptions, 182 yards and one touchdown combined. Alexander's 233 yards receiving Saturday marked the third time in the last four games he had eclipsed the 200-yard mark.
It didn't hurt that KU receiver Dezmon Briscoe pushed him every step of the way. Briscoe had 242 yards and two TDs on 14 receptions.
"Briscoe did a great job today," Alexander said. "He just kept getting open. And Kerry Meier (10 for 54) did a great job, too. They're both great receivers. But, of course, you always want to outmatch other great receivers. (And this was) against KU. It's the best feeling ever right now."
More like this story on KUsports.com