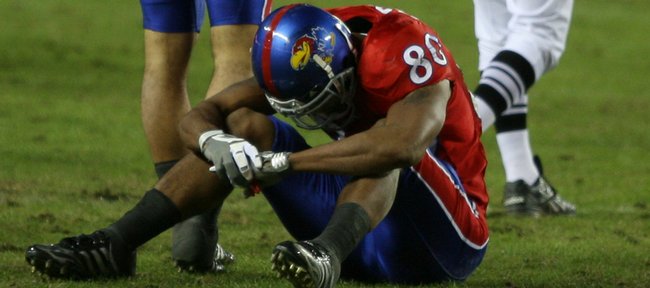 Kansas City, Mo. — Dezmon Briscoe hasn't decided yet if he'll return to Kansas University next year or if he'll forgo his senior season to enter the 2010 NFL Draft.
"I don't know," the junior receiver said after KU's 41-39 loss to Missouri on Saturday at Arrowhead Stadium. "I do want to come back to get my degree, but I do have a good chance to go high in the draft, so I don't know if I want to take that opportunity or come back to school."
Briscoe finished the season with 84 catches for 1,337 yards and nine touchdowns. His 1,337 receiving yards were the second most by a KU receiver in a year, trailing only the 1,407 receiving yards he had last season.
"I'm going to sit down with my mom and my dad and my coaches," Briscoe said, "and just find out what goes on from there."
Briscoe admitted that he hadn't been having many conversations about his future in the last few weeks.
"Me and my mom, I love her to death. She's always been there for me through thick and thin," Briscoe said. "She just tells me to go out, don't worry about it. We'll figure it out after the season. So we're going to sit down and talk about it now that the season's over."
So where would Briscoe see himself fitting in on the 2010 draft board?
"Personally, I believe I am a top-two-round pick," Briscoe said. "But it's not my pick. It's the teams that draft's pick."
Briscoe said he hadn't thought about if he would be more likely to stay if Mark Mangino remains as KU's coach.
Saturday, Briscoe caught 14 passes for 242 yards and two touchdowns against MU. The 242 yards receiving were the second-most ever by a Jayhawk in a game — again trailing only his own mark of 269 against Oklahoma last season.
Briscoe still said it was hard to get excited about his day after losing two fumbles.
"The costly fumbles that I did have, they didn't really make up for the big plays that I did have," Briscoe said. "The two fumbles I had turned into 14 points, and that really hurt us in the long run."
Mangino wasn't as harsh when critiquing his star wideout.
"It was kind of a bittersweet day for Dez. He made some fantastic plays, and he made a couple mistakes that hurt," Mangino said. "Dez has contributed great things to the program for a long time. Nobody feels worse than Dez.
"It's not Dez's fault that we didn't win the game, that's for sure. He gave us a chance to win."
More like this story on KUsports.com