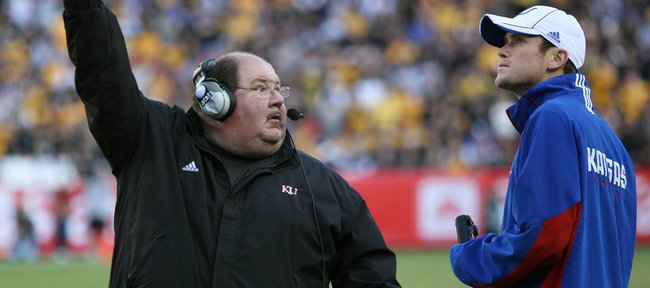 Kansas City, Mo. — He didn't win the thrilling football game Saturday at Arrowhead Stadium, and for that he felt genuinely bad for his players, especially a senior class that won 20 games in the middle two seasons of their careers.
But if someone thinks a seventh loss in a row, this one by a 41-39 margin to chief rival Missouri, means Kansas University football coach Mark Mangino will go away quietly on somebody else's terms, well, that someone must not ever have encountered a wounded Bear.
Barring the biggest upset in sports history, Mangino has coached his final game at Kansas. Any day now, he'll reach the end of the plank he has walked for two weeks. He supplied after Saturday's loss the words that will be carved into the tombstone of his KU tenure: "A friend of mine told me something one time that I think is a very, very good way to go about life, and that is, 'I'd rather die on my feet than live on my knees.'"
He did it his way. He coached using fear and intimidation to establish the two words — "structure" and "discipline" — he said were his marching orders when he took the job he performed for eight seasons. Some of his former players came out with disturbing allegations about the way the coach berated them with a mean-spirited tongue after it became public that the athletic department was investigating Mangino for the way he handled players. After that, players lined up to support him. More of them backed him after Saturday's loss.
Cut through the words of Mangino and the silence of athletic director Lew Perkins — two smart, hard-headed men accustomed to getting their way — and what remains is a stare-down. Mangino sits at one corner of the playground, Perkins at the other. Smack-dab in the middle sits an estimated $6.6 million. Somewhere in that playground, lawyers will try to find a middle ground, a means of divvying up that money.
Charges leveled by former players through the media already have damaged Mangino's chances of recruiting football talent. Lori Williams, associate athletic director/risk management, hired by Perkins in September and assigned two weeks ago by him to investigate the football coach, has been interviewing current players and assistant coaches to find out more about Mangino's approach with players.
Regrets? Mangino has fewer than Frank Sinatra did, and his were too few to mention.
A reporter asked Mangino what he would do if his bosses told him he could keep his job as long as he changed his approached, toned it down.
"You're coming with the assumption it needs to be toned down," Mangino said. "I'm going to tell you how I coach is how I coach. Ninety-nine percent of the kids here appreciate it. They appreciate the way I care for them. I make sure they get the best health care, that they're doing their academics, are working toward a degree. We spend a lot of time counseling players."
If Mangino's math is correct about how many of his players appreciate his style, Williams won't have much of a file. The file, those in the know say, is thick and pre-dates Williams' report. It didn't bite the coach until now, in the midst of a losing streak marred with the sort of shaky defense and odd play-calling that undid Kansas in its final possession Saturday, one that ended in a safety.
A reference to unflattering reports of the coach's treatment of others — such as a student parking-lot attendant — Mangino again defended himself.
"Let me tell you something," he said, "everybody has a different perception of people, especially when you have a profile such as a college football coach, and I will tell you that I may be one of the more pleasant people to deal with in college football. Trust me."
And those were the last words he spoke from a game-day podium as Kansas coach, on the losing side for the 48th time against 50 victories. He started with a 12-24 record in three seasons and finished with a seven-game losing streak. In between, he went 38-17, including a 3-0 record in bowl games during that stretch.
Throughout the two-week investigation, senior receiver Kerry Meier was Mangino's most vocal supporter. Jake Sharp, ever the football player with entire focus trained on the next game, said little until Saturday.
"I've got to thank coach for giving me the opportunity to come here to the University of Kansas, and I feel very blessed to have him as my coach," Sharp said. "With all this stuff going on, he never wavered. He never came to practice halfway. He was all-in. He had us focused in, and we didn't even worry about it. That's why earlier in the week I was asked to comment on it, I didn't even want to talk about it because that was my coach. I have the utmost respect for him and what he's done for this program. I think everybody else on the outside should, too. ... Coach coaches hard. You can't fault him for that."
Junior receiver Dezmon Briscoe, a mega-talent who sometimes does a better job of getting out of the way of tacklers than out of his own way, was emotional in his backing of his coach.
"It's been hard," Briscoe said. "He's taken a lot of criticism, but to me he's a great guy and a great coach. I go to him sometimes and talk to him about my personal problems. He's really a helpful guy, and I really hope he returns next year. My high school coach was very tough, and I sometimes tend to put myself in tough situations. I think I need a tough coach."
He had a tough coach, a little too tough in the eyes of some, and of late not successful enough to survive his flaws.
More like this story on KUsports.com