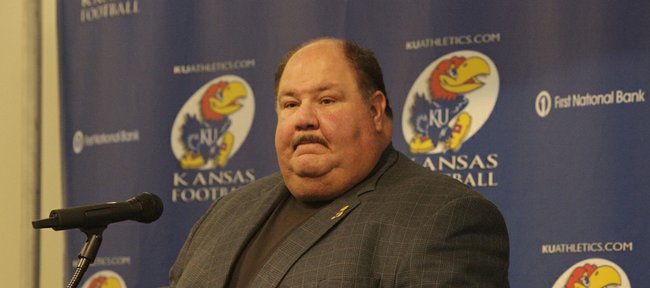 The Kansas Athletic Department is conducting an investigation of football coach Mark Mangino and the Journal-World has confirmed the investigation began after Arist Wright complained that Mangino poked him in the chest in the days before KU took on Colorado.
In his weekly press conference, which was a brief 11 minutes, Mangino faced more than a dozen questions relating to news that broke this morning on KUsports.com that Athletic Director Lew Perkins held a meeting with members of the football team regarding concerns with Mangino.
Mangino opened up his press conference by saying he wouldn't comment on the matter, but ended up providing more information as questions persisted.
"I haven't lost the team one bit. I may have lost some people around here, but it's not players," Mangino said. "Take that for what it's worth, you decipher it."
Mangino confirmed he had a 10-15 minute meeting with Perkins after the athletic director met with players. He was not at the meeting with Perkins and the players.
"If you want to know what was said, I'm not disclosing it. He's the one who's disclosing information about it, I'm not," Mangino said.
KU senior quarterback Todd Reesing said the meeting was between Perkins only and the players.
"Lew said an unbiased person, who will have no opinions either way, will conduct the investigation," he said. "I think Lew's doing what he has to do in the position he's in."
Reesing added that he didn't think this had anything to do with the current record, but said he didn't want to talk about what the investigation was about.
When asked whether this would be a distraction with a game against No. 3 Texas coming up this weekend, Mangino said it wouldn't, but added he was taking this matter very seriously.
"We're really focused on Texas. You lose a few games and those things surface," he said. "We're thinking let's do everything in our power as coaches and players to get a win."
Reesing said, though, that there was no turmoil within the team, but that they'd have to work hard to remain focused.
"I told the guys not to talk about it," Reesing said. "We're going to have to find a way to stay focused on Texas."
Check back later for more information.
More like this story on KUsports.com