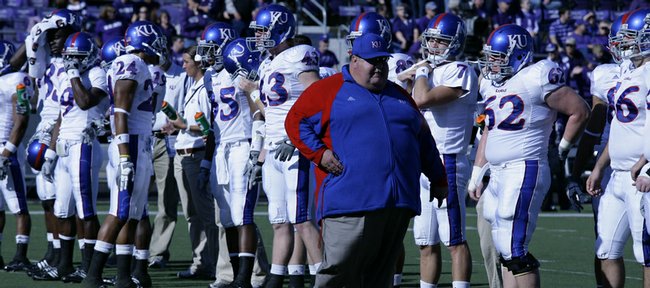 Kansas University athletic director Lew Perkins met Monday night with the school's football players to discuss concerns about football coach Mark Mangino brought to his attention by one of the current players and others with ties to the football program.
Arist Wright, a senior linebacker, was the player who first went to Perkins, and complained that Mangino poked him in the chest in the days leading up to KU's game at Colorado.
"I can confirm an internal review is under way," Perkins said in a quote released by the school. "It involves a personnel matter, and as a result, is confidential. It would be inappropriate for me to provide further information right now."
Mangino said he met with Perkins for 10 to 15 minutes before the athletic director met with players, but wasn't present for Perkins' meeting with the players.
"If you want to know what was said, I'm not disclosing it. He's the one who's disclosing information about it, I'm not," Mangino said.
In their eighth year under Mangino, the Jayhawks (5-5) take a five-game losing streak into this week's contest against Texas.
Check back to KUsports.com for more information on this story.