Audio clips
2008 KU-FIU Football Postgame
Podcast episode
The guys (Tom Keegan, Dugan Arnett, Jesse Newell) analyze KU's 40-10 victory over FIU from the press box at Memorial Stadium. The guys talk about Daymond Patterson, Tom's swami skills and whether KU fans should be concerned by the team's struggles in the running game.
On the street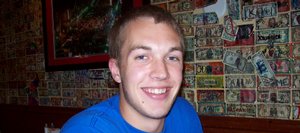 It's tough to say whether the Kansas University football team has the muscle up front to get the better of the behemoths from Oklahoma and Texas, but nobody can question the Jayhawks have the skill players to hang with anybody, any night in any stadium.
Never mind that Florida International was the competition in Saturday night's season-opener witnessed by a Memorial Stadium-record 52,112 fans.
The two players whose talent screamed the loudest stood out in such a way as to suggest there isn't a league good enough to keep them out once they reach their peaks.
Freshman Daymond Patterson, from Mesquite, Texas, and sophomore Dezmon Briscoe from Dallas, showed why assistant football coaches all over America rack up frequent-flier miles on Texas trips. Briscoe caught three touchdown passes, and Patterson returned a punt for a touchdown in KU's 40-10 beat-down of FIU, and they looked so big-time in doing it.
Most high school football players arrive on college campuses raw. Texans come well done.
"The Texas high school football system down there really mirrors the college system," said Clint Bowen, who had plenty about which to be proud in his debut as solo defensive coordinator. "It's year-round. They've got summer conditioning. They've got winter conditioning. So when a kid comes here, it's not that much of a change for him."
Bowen said he was talking to new wide-receivers coach David Beaty recently and learned that as a high school coach in Texas, Beaty had "36 coaches on his staff." Bowen cited another Texas high school that has "1,200 kids out for football. They field nine freshman teams. These kids are well coached, and their transition is not as bad. They've been coached."
For every Briscoe and every Patterson who comes to KU, plays right away and thrives, recruiting big-time Texas athletes becomes a little easier for the KU staff.
Briscoe's touchdowns covered a total of 10 yards, which says plenty about his size and physical style. He showed good leaping ability and tremendous footwork alone in the corner when he went up to snare Todd Reesing's high pass and managed to stay in bounds.
Players in Bowen's secondary have no reason ever to feel intimidated, given how much talent they face daily in practice.
"I don't know if you guys know this," Bowen said with a smile, "but Dez Briscoe's the real deal now. That guy's good."
So good that predictions of a three-touchdown, season-opening game for him were all over the local paper, local weekly sports TV show, Internet prediction column and Spodcasters. It was even easier to forecast than a loud blue mob in the student seating section.
Wearing a mohawk hair style and sharply dressed with black-and-red alligator shoes, a red dress shirt, black necktie and black slacks, Briscoe said he was recruited by "every Texas school school except Texas."
Why Kansas?
"What really sold me was when coach Mangino came to my home he told me the truth," Briscoe said. "... He told me if I come up here and work hard I should see the field."
Briscoe played enough to catch a school freshman-record seven touchdown passes, merely a sneak preview.
More like this story on KUsports.com