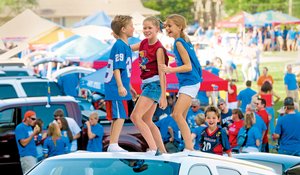 Audio clips
2008 KU-FIU Football Postgame
On the street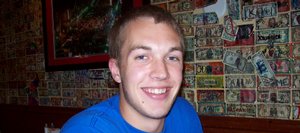 Let's be realistic - the last Kansas football season was a magical year, said Nick Hosler, 29.
"You're not going to go 12-and-1 every year," he said from his tailgate spot, dubbed "Camp Mangino," before the season kickoff at Memorial Stadium.
KU's Orange Bowl victory in January concluded what Heather Hice, a Kansas University graduate, called "a perfect season."
"Last year we were the Cinderella team, so nobody was expecting it, nobody was really preparing as hard as they should have for us."
This season is a different story.
Fans deemed this year's schedule "tougher," saying teams have now taken notice of the Jayhawks.
"We're not going to be able to sneak up on anybody this year," said Greg Munzer, of Independence, Mo. "They are all going to be kind of marking us on their schedule because we had such a good year last year."
While fans aren't expecting quite the fairy tale they witnessed last season, they seem pretty clear on what their happy ending entails:
"We need a bowl game," Hosler said. "Seven and 5 would be disappointing. Anything over that would be acceptable, in my book."
"I'd be perfectly happy with 8 and 4 considering the schedule's a lot tougher," Munzer said. "That'd get us a pretty good bowl, and I'd be happy with that."
"I expect us to make another real good bowl, not a BCS (Bowl Championship Series) bowl, unless we really pull something out," said KU senior Bryan Roddy, 21, of De Soto. "I expect a winning season, maybe 7 and 5, something like that."
Hice's husband, Jareb Hice, knows those expectations are there and that "fans will be disappointed if they have a season that's not somewhere close to where last season was," he said.
Recalling a time not too long ago, however, when the football program offered few thrills, fans are reminded that the program is just getting started.
"We're not there yet," Roddy said. "I think with the Mangino era, it's growing. I think as long as we keep building our program, we will become less of a joke and more of an actual threat."
Not only that, but the better the football, the better the tailgating.
"As I can see around here (tailgating near the stadium), I can tell it's a world of difference," he said about Mangino's arrival to KU. "And it makes it fun to come out here on Saturdays and have a good time."
"We're just hoping we can try to keep things rolling in a positive direction - winning records, going to bowl games and bringing in top recruits, and see where things go," Hosler said.
More like this story on KUsports.com