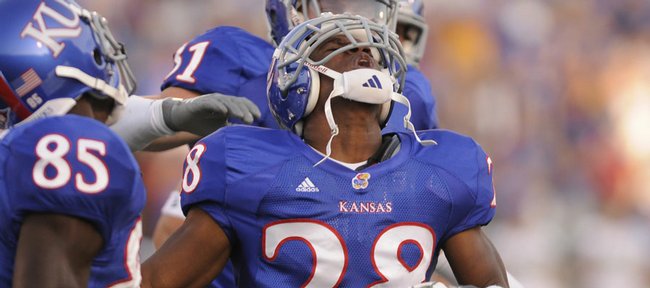 Audio clips
2008 KU-FIU Football Postgame
Podcast episode
The guys (Tom Keegan, Dugan Arnett, Jesse Newell) analyze KU's 40-10 victory over FIU from the press box at Memorial Stadium. The guys talk about Daymond Patterson, Tom's swami skills and whether KU fans should be concerned by the team's struggles in the running game.
Go figure
139Total offensive yards by the Florida International
2.5Average yards per play by FIU
394Kansas University's total offensive yards
4.5The Jayhawks' average yards per play
47Total net yards rushing by KU third-string RB Angus Quigley
29, 32 Rushing yards by Nos. 1-2 Jake Sharp and Jocques Crawford
3Touchdown receptions for KU's Dezmon Briscoe
9, 62Catches, yards for Kansas' leading receiver, Kerry Meier
It took Kansas University punt returner Daymond Patterson a total of two returns to amass more return yards than last year's starter, Anthony Webb.
It took him three returns to score his first career touchdown.
And it took him approximately a quarter of a second to provide the team's first highlight-reel moment of the 2008 season, when, during his touchdown return, he somehow managed to hurdle a Golden Panthers defender before knifing his way into the end zone.
"That just happened on the spot," Patterson said of the leap over FIU defensive back Ashlyn Parker that resulted in the touchdown. "I was running, he fell, and I ended up jumping.
"But I think it was pretty cool."
So did the single-game school-record 52,112 fans in attendance, who watched Kansas rough up visiting Florida International 40-10 on Saturday in the season-opener for both teams at Memorial Stadium.
It didn't quite get off to a stellar start. On their first possession of the most anticipated season in school history, the Jayhawks turned the ball over on a Dezmon Briscoe fumble. On their next possession, they were forced to punt.
From then on, though, the floodgates opened and never really closed. A Jocques Crawford touchdown was followed by a Briscoe touchdown, which was followed by an Alonso Rojas field goal, which was followed by Patterson's kick return for a touchdown.
Before long, it was midway through the second quarter, and Kansas was holding a 24-0 lead that never really diminished.
The Jayhawks dinked their way to 256 passing yards, as quarterback Todd Reesing completed 37 of 52 passes and three touchdowns - all of which were caught by sophomore receiver Briscoe.
"For as many times as we threw the ball, I thought our protection was pretty good," said Kansas head coach Mark Mangino of the team's offensive line, which is trying to replace All-American Anthony Collins and four-year starter Cesar Rodriguez. "Sometimes they just bring more than you can block. And that's the chance you take. And when you do that a lot, you run the risk of a team scoring a lot on you."
Which is what ultimately happened.
Rojas, the team's transfer punter who was also thrust into the role of placekicker following the personnel issues facing the team at the position, performed swimmingly in his first game as a Jayhawk. On his first attempt of the game, he connected on a 47-yard field goal that gave the Jayhawks a 17-0 lead - and a reason to exhale following the loss of former standout Scott Webb.
Saturday's victory, at least on the surface, also looked to solidify Kansas' preseason hype as a top-20 team. Despite a brief letdown in the first half, the defense, in its first year under coordinator Clint Bowen, held FIU to 139 yards and forced four turnovers.
True, Saturday's onslaught came against Florida International, a program that has lost 24 of its last 25 games. And, yes, there were issues Saturday that are cause for concern - Reesing was regularly under fire, the team's running game never really established itself and the Jayhawks gave up a 74-yard punt return touchdown to the Golden Panthers' T.Y. Hilton.
But in the end, there were enough positives to far outweigh the negatives. A 30-point victory margin, for instance. A defense that held FIU to a total of 64 yards in the first half. A quarterback that passed for an efficient 256 yards and three touchdowns.
And although the team's offense struggled sometimes, Mangino appears pleased with what he saw following the team's first 60 minutes of action.
"Given the way they were playing defense, we did the things and executed the things we needed to be effective on offense," Mangino said. "Were we as sharp as we need to be on offense? Probably not. (We have) a lot of new faces there. But we'll take the performance, and we'll improve on it."
Dugan Arnett's quick hits
Hardest Hit
Scott Bryant, Florida International. Bryant, a junior linebacker, introduced himself - quite intimately - to Jayhawks receiver Dezmon Briscoe early in the first quarter. Following a Briscoe reception, Bryant blind-sided the Jayhawks sophomore, forcing a fumble and giving the Golden Panthers the ball on their 39.
Unsung Hero
Kerry Meier. While all three of the Jayhawks' touchdown passes landed in the hands of sophomore receiver Dezmon Briscoe, the most steady performance of the game came from Meier. He caught a team-high nine passes - many of which came on third-down plays - to finish with 62 yards.
Best first-time performance
Daymond Patterson. Following a 2007 season in which punt returning was an Achilles heel for the Jayhawks, Patterson showed Saturday why 2008 might be a very different story. The true freshman returned four punts for 135 yards, including a 75-yard return for a touchdown in which he hurdled a defender on the FIU 27-yard line before snaking into the end zone.
Game balls & Gassers
Candidates for Game balls
¢ Returning punts, Daymond Patterson looked like an Olympic sprinter at times and an Olympic hurdler at other times. Aqib Talib, is gone, but the excitement factor isn't.
¢ Calming fears that KU didn't have anyone to kick field goals, Alonso Rojas made three-pointers from 47 and 37 yards and averaged 46 yards on three punts.
¢ Kerry Meier led Kansas with nine receptions, looking like Todd Reesing's favorite third-down target.
¢ Dezmon Briscoe had three touchdown receptions.
Candidates for Gassers
¢ Grady Fowler missed his second extra-point attempt.
¢ Marcus Herford had difficulty handling kickoffs cleanly.
¢ KU's offensive line made Todd Reesing work under too much heat, especially early in the game, against a defense that blitzed all night.
More like this story on KUsports.com