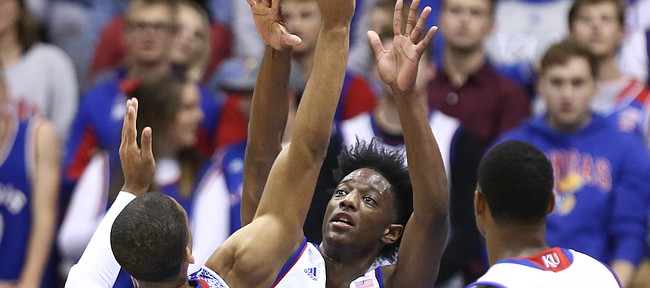 Rare is the year Kansas doesn't bring in at least one McDonald's All-American. This season, the Jayhawks welcome two into the rotation. 
The customary Allen Fieldhouse sellout crowd of 16,300 couldn't wait to see red-shirt sophomore Malik Newman and freshman Billy Preston make their KU debuts Friday night.
Preston's collegiate debut was delayed. On the first night of his 15th season at Kansas, Hall of Fame coach Bill Self celebrated the 242nd birthday of the U.S. Marine Corps with a disciplinary measure or two. Preston blew curfew and missed a class and Self didn't let him play in the game.
Newman, who had been starting in the exhibition games, didn't hear his name called with the starters, replaced by the stealth newcomer, the one who was not a hamburger All-American and didn't play on the national AAU circuit, freshman swingman Marcus Garrett from Dallas. Garrett handled the nerves that went with the promotion and his debut well enough to record a double-double with 10 points and 10 rebounds. He also had two steals and had just one of his team's 20 turnovers.
Photo Gallery
Kansas v. Tennessee State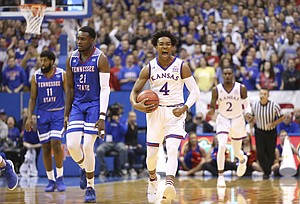 View a gallery of images from Friday night's game between the Jayhawks and Tigers at Allen Fieldhouse.
"The thing about Marcus, he does what he does," Self said. "He doesn't have to shoot it, although it would be nice to see a couple of them go in the hole. To get 10 points and 10 rebounds and two steals in his first game, I thought that was pretty good. The other thing is he's probably our best defender. He reminds me so much of Travis (Releford) when Travis first got here."
Self told Garrett after Thursday's practice that he would be starting the following night.
Surprised?
"Very," Garrett said. "Just being a freshman you don't expect to start your first year, especially at a high major like Kansas."
Asked how he thought he did, Garrett said, "OK."
Garrett missed his lone 3-point attempt, from the right corner in the second half. He made 4 of 6 field goals, 2 of 4 free throws and had two assists.
Self wants to see more out of Newman at the defensive end and Garrett appeared to be on target with his answer when asked if he thought the switch in the starting lineup had more to do with him or with Newman.
"I feel like it had something to do with both," Garrett said. "I feel like Malik played a lot better tonight."
That's pretty much how Self explained it too.
"We didn't have a very good practice yesterday and we were going to go with a different starting group, just based on yesterday. It wasn't really a knock to Malik, but we have to certainly get better defensively," Self said. "Malik should be a starter here, there's no doubt about that. And he may start on Tuesday, no question. The bottom line is I thought it was the right thing to do to try to make sure that he understood that he can play better when he's not shooting the basketball. And that's not a knock. That's just a fact. Hopefully, he will. I thought he played pretty good tonight, except for turnovers (four in 24 minutes)."
Newman and senior Devonte' Graham were among those who contributed to putting Garrett in the right frame of mind for the start, according to Garrett.
"Devonte' just told me to stay calm, live in the moment," Garrett said. "I feel like I did a good job with that."
Newman, Garrett said, told him "don't overthink it when you go out there, just relax and play well."
"I was nervous before the game, but once the game tipped off I was OK," Garrett said.
As for his performance, he said, "I thought I should have shot the ball a lot better. I defended OK, but I gave up a lot of drives."
It was such a good night for Kansas that even when things didn't go as planned they ended up in points. Garrett fed Udoka Azubuike in the post and the ball was deflected high into the air and went in the hoop for a bucket credited to Azubuike.
"I don't know what that was," Garrett said. "Probably God. I don't what that was."
More than his double-double and the team's fast start made this a memorable debut for the long, quick, 6-foot-5, 180 pound athlete.
"Playing in front of this crowd makes it so much easier," he said. "Just seeing the ball go in and everybody's screaming just feels so good."
Garrett's off to a terrific start. He'll play with more spectacular stars in each of his four years at Kansas, but by the time he's a senior, if not before then, he just might be the most popular player on the team, the one most respected by the 16,300 basketball-crazed patrons.
---
More news and notes from Kansas vs. Tennessee State