So much of the talk about the 2017-18 Kansas basketball team centered on whether the Jayhawks had enough depth, particularly in the front court, to be the kind of team they want to be and one the fans expect.
Friday night, in a 92-56, season-opening whipping of Tennessee State at Allen Fieldhouse, the fourth-ranked Jayhawks played a man down and proved even that was not a problem.
With just seven scholarship players available Friday instead of eight, thanks to Billy Preston drawing a one-game suspension for missing curfew and class in the 24 hours leading up to the game, the Jayhawks (1-0) did not miss a beat and continued to push the tempo and put pressure on overmatched Tennessee State from start to finish.
"It was always next man up," senior point guard Devonte' Graham said, adding that his team did not blink when it learned of Preston's absence. "We said in the locker room that we just knew we had to be even more aggressive and play even smarter on defense and not get in foul trouble."
Photo Gallery
Kansas v. Tennessee State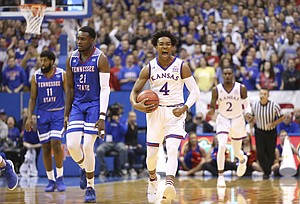 View a gallery of images from Friday night's game between the Jayhawks and Tigers at Allen Fieldhouse.
KU coach Bill Self said after the game that having Preston next to him all night instead of making plays out on the floor did not change much for the guard-heavy Jayhawks, who followed Graham (10 points, seven rebounds and 12 assists) and junior guard Lagerald Vick (23 points, five rebounds, three assists) to a red hot start.
"I thought we may have to (adjust)," Self said. "The only thing that I adjusted was just trying to make sure that Mitch (Lightfoot) and Dok (Azubuike) didn't both get two fouls early. So I was not going to play them together."
Disappointed by Preston's irresponsible behavior, Self credited the freshman forward for owning his mistake.
"We had curfew (Thursday) night and I was with them," Self marveled. "I fed 'em at 10:30. So to miss class today because his car was parked illegally because he came in so late last night... The great thing about Billy was he just told us. So there wasn't much of a decision to be made."
At one point, for a 2:09 stretch late in the first half, Self inserted 6-foot-5 walk-on Clay Young into the game to give Kansas a five-guard lineup. Even that worked. In his five minutes of action, the senior tallied three points, two assists and a plus-nine rating.
"I didn't anticipate putting Clay in," Self said. "But Clay did great when he was in there. But, no, it wasn't any different (without Preston)."
While Azubuike (13 points, six rebounds, two blocks in 30 minutes) and Lightfoot (six points, five rebounds, three blocks in 17 minutes) were able to hold down the interior on both ends of the floor, it was the KU offense that really gave Tennessee State fits.
Kansas opened the game by making its first nine shots and finished at 60 percent from the game.
"For us, it would've been better had they played bigger because the game would've been a little slower," said TSU coach Dana Ford. "We practiced the first four minutes of the game twice yesterday. But there was just not a lot that we could do. We paid for the Missouri game (on pay-per-view) and we even paid for the overseas exhibition they did (in Italy). We wasted a lot of money."
Said Self of his team's attacking mindset Friday night: "Compared to Fort Hays State (on Tuesday night), that was night and day from a speed standpoint. And I thought we tried to score. Sometimes you just move the ball to move the ball without moving it with a purpose."
Whether it was Graham driving to the rim to finish in traffic or dishing one of his 12 assists, both in half-court sets and in transition — one assist to Svi Mykhailiuk (15 points on 6-of-11 shooting) came from the other side of mid-court — the Jayhawks always looked assertive.
"We always want to play fast, up-tempo, because we know we've got quick guards that can make plays," Graham said. "Our main focus is, we say, 'Get downhill,' try to get two feet in the paint and make the defense collapse. It felt good. I love sharing the ball and getting guys open shots."
Self loves seeing it.
"He didn't score the second half and he dominated the game," Self said of Graham. "I know Lagerald scored the points, but Devonte' controlled the game."
Friday's victory, though hardly unexpected, was the perfect response to the dud the Jayhawks delivered in the exhibition finale three days earlier.
With fifth-ranked Kentucky looming Tuesday in the Champions Classic in Chicago, both Self and Graham said having a performance like this to build on would be good.
"Exactly what we were looking for," said Graham, who added 10 points and seven rebounds to his triple-double-threatening stat line. "We knew we couldn't come out sluggish again. We've gotta try to start every game like that because it really gets us going and kind of sends a message to the other team."
Added Self: "Having some momentum and a couple positive things happen will definitely help our preparation the next couple of days."
---
More news and notes from Kansas vs. Tennessee State