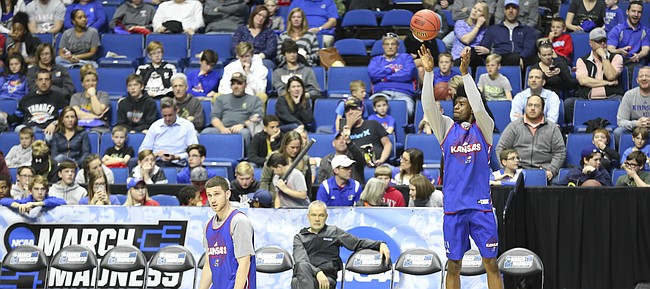 Tulsa, Okla. — Kansas basketball coach Bill Self said Thursday that he did not expect guard Josh Jackson to elevate his game in an attempt to atone for recent mistakes that cost Jackson a game and the Jayhawks a victory heading into the NCAA Tournament.
"He's always competitive to me," Self said. "So if he's got another gear to go to in that (area) then that'll be fun to watch. But, to me, he's always given everything he's got on the court."
Self might want to be ready then, because the 6-foot-8 freshman from Detroit has plans to do exactly that.
Sitting in front of his locker inside BOK Center during Thursday's final tune-up for the start of the Jayhawks' 2017 NCAA Tournament run, Jackson discussed how the disappointment of that one-game suspension has weighed heavily on his mind since the day he sat out.
"Definitely," Jackson said. "It is in my head, and that's all I'm going to say about it."
Asked if he could remember the last time he missed a game, Jackson said nothing came to mind. Last week was his first absence due to suspension and he's been lucky when it comes to injuries, too.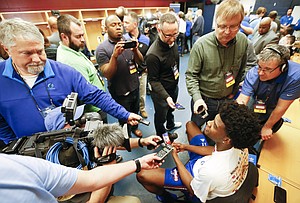 So eager is Jackson to play, he actually woke up Thursday thinking it was game day. The Jayhawks, of course, do not play until 5:50 p.m., against No. 16 seed UC Davis on TNT.
"I was pumped up," Jackson said. "We got to practice today and that was the first time I found out we weren't playing, and I was like, 'Be ready tomorrow.' I'm just excited to play. My whole life, growing up watching it as a kid, watching it on TV. I'm here with, I feel like, the best team in the country right now and I wouldn't rather be anywhere else."
It's not just Jackson who is ready for action. The Jayhawks said Thursday that a week off was far too much time, and they all seemed eager to get back onto the court. Instead of bouncing off the walls with anticipation and struggling to focus, top-seeded and third-ranked Kansas (28-4) spent the time off fine-tuning their attack, both physically and mentally, on the court and off of it.
Photo Gallery
Kansas NCAA Tournament practice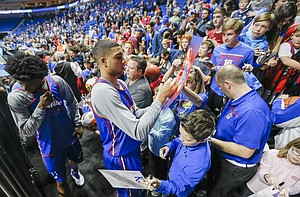 View a gallery of images from a day of practices and press conferences at the BOK Center in Tulsa.
"I think we're ready," Self said, before alluding to the off-the-court legal issues involving Jackson that continue to hang around the program. "I think we're focused. Certainly there's been some challenges, but I don't think that's going to be a factor in any way, shape or form. What's transpired happened over three months ago and so, anything that's been written or said certainly is old hat. I think our guys have heard enough and I think it's water off their back in a lot of ways, as far as a distraction goes. I'm proud of them, how they handled it. And I think we're ready to go. I think we're focused and I think our team's excited to get back out there."
Jackson admitted that swirling commentary about his involvement in off-the-court issues has been a distraction, but he did not play the victim card while doing so.
"Definitely," he said. "It has been, but just got to look past it. There's nothing I can do about it now. I'm here to play basketball and that's what I'm going to do."
Asked what he learned from his involvement and the aftermath of a December dispute at The Yacht Club with a member of the women's basketball team, Jackson pointed to his evolving maturity.
"We all make mistakes," he said. "Kids. And, you know, when you make one mistake, the only thing you can do is just don't make it again."
As that philosophy applies to matters off the court, Jackson said he also planned to take that approach with basketball. He vowed never to miss another game because of a bad decision or bad behavior and said, now more than ever, he and his teammates were locked in and focused on the here and now that's required to make a deep tournament run.
"I feel like we got a good grasp on it and we got a lot of things figured out," he said. "I think a lot of people will see a different Kansas team coming into March Madness. There's a lot of motivation. Being here with these guys, I love each and every one of them. (Seniors) Frank (Mason III), Landen (Lucas), Tyler (Self), I just want to make this one for them to remember for sure. The main thing we've been talking about coming into this tournament is not to look past anybody because it just takes one loss and it's all over."
New beginnings
Junior guard Devonté Graham on Thursday was asked how long it took him to get over the pain of both falling and fouling out in KU's Elite Eight loss to Villanova last March.
"For a couple of weeks," Graham said. "It was tough to get rid of that feeling. But that was last year and it's a new year now."
Svi's stitches
Junior wing Svi Mykhailiuk was sporting a few stitches on his upper lip during Thursday's open locker room session and open practice. But the guard from Ukraine, who tallied 18 points in KU's loss to TCU, said he was just fine.
"I just caught an elbow (in practice)," he said.
Coaches corner
With former Kansas coach Larry Brown having close ties to two teams in Tulsa this week, Self said the leader of KU's 1988 national championship squad was hoping to attend Friday's games between SMU and USC and Kansas and UC Davis.
"He's trying to get here," Self said of Brown. "He's stuck in New York, with the snow storm. He's trying hard to get here to cheer on, obviously, his Mustangs — he recruited those guys, he and Jank (SMU coach Tim Jankovich) — and, obviously, to watch us play, as well. So I hope he can get here. (Former KU) Coach (Ted) Owens is from Tulsa, so it'd be great to see Coach Owens. I'd love to be able to get (Former Oklahoma State) Coach (Eddie) Sutton to the game, if that's possible, but I don't know if that's going to be possible. It's always good seeing those guys that I've accumulated a lot of knowledge from hanging out with them."
16 vs. 1 conundrum
Thanks to Thursday wins by Gonzaga and Villanova, No. 1 seeds are now 130-0 all-time against No. 16 seeds in the NCAA Tournament.
Players from both teams on Thursday explained their mindset about the lopsided record.
"I'm aware that it's never happened before," Jackson said. "But we still got to come out and do what we need to do to make sure it stays that way."
Added UC Davis guard Brynton Lemar: "We don't back down to anyone, and we're here for a reason. Our whole goal is to win as many games as we could ... We're all competitors and we're looking forward to the challenge of playing Kansas."

---
More previews for Kansas vs. UC Davis
---