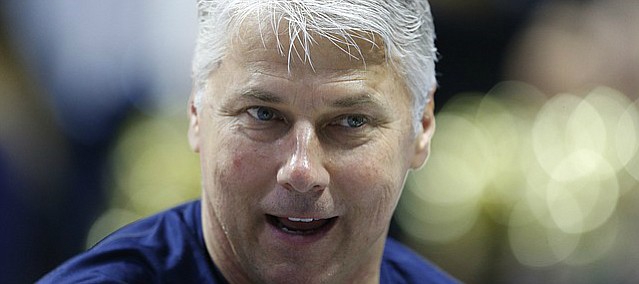 Tulsa, Okla. — Exactly 11 years ago Friday, Jim Les coached a team past Kansas in the first round of the NCAA Tournament.
Les, a former coach at his alma mater Bradley, figures to have a tougher time when his 16th-seeded UC Davis squad lines up against the No. 1 seeded Jayhawks at 5:50 p.m. Friday (TNT) at BOK Center.
In Bradley's Sweet 16 run in 2006 — which featured lottery pick Patrick O'Bryant and standout forward Marcellus Sommerville — the Braves upset Kansas, 77-73, before following it with a win over Pittsburgh.
"The 10-year statute of limitations is up where you can't talk about it. So we're past that point," Les said during a press conference Thursday. "I'm really not interested in prodding that bear, Bill Self, and adding motivation to the game."
Photo Gallery
Kansas NCAA Tournament practice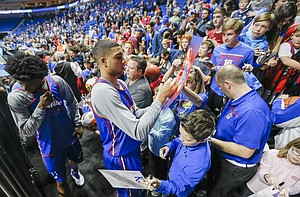 View a gallery of images from a day of practices and press conferences at the BOK Center in Tulsa.
The Aggies, in the NCAA Tournament for the first time in school history, advanced to their first-round matchup against KU with a four-point victory over North Carolina Central on Wednesday in the First Four in Dayton, Ohio.
UC Davis arrived in Tulsa around 1:30 a.m. Thursday, but the late-night travel schedule didn't damper any enthusiasm for playing in the tournament.
It was on the same flight that Les was reminded of his history against the Jayhawks.
"A number of the players from that (Bradley) team were texting me about our win and had watched the game, and then our matchup with Kansas," said Les, who took over at UC Davis in 2011.
Self added with a smile, "I think that game, was it in Detroit? I've tried to forget."
Eleven years after one of the biggest wins of his coaching career, there's perhaps more pressure on Les to deliver a victory over Kansas.
Nevermind the fact that No. 16 seeds have an 0-130 record against No. 1 seeds.
Les, who owns a 3-1 record in the tournament, estimated he received 200 text messages since Wednesday's First Four victory, but a request from his youngest daughter, Hannah, stood out among all of the others.
"I got the text from Hannah after her chemistry class," Les said, "which stated, 'My chemistry professor just told the class that if you beat Kansas, we all get A's on the next test. Dad, step up.' So tomorrow night I'm coaching for chemistry."
---
More previews for Kansas vs. UC Davis
---