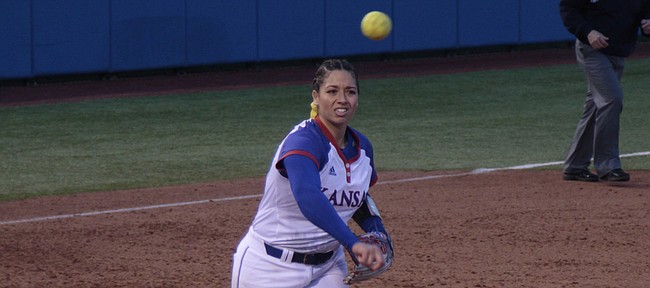 Life has been good for the Kansas softball team in the friendly confines of Arrocha Ballpark this season.
After going 3-0 last weekend in the Jayhawk Invitational, Kansas kept on rolling in its home ballpark with a 5-3 win over UMKC on Thursday in its first of five games in the Rock Chalk Challenge.
"It's a great way to get the weekend started," KU coach Megan Smith said. "We've got a really tough task this weekend with a couple of phenomenal teams here. To start off tonight and gut out a win, that was huge for the weekend."
The Kangaroos nearly pounced on the Jayhawks (16-9) early after loading the bases with one out in the first, but KU ace Alexis Reid struck out Bri Sims and coaxed Kelsey Goodwin to line out to center to come out of the inning unscathed.
Despite working around base runners for most of the evening, Reid (9-4) went the distance for the 10th time this season. Reid allowed three runs (two earned) on seven hits, struck out seven, walked two and hit two batters.
"She just was gutsy tonight. She just kept battling," said Smith of Reid. "They hit her hard, and she'd come through with a big strikeout or a big out. I was really happy with the way she just grinded through it and found a way."
Reid was able to pitch with the lead for the rest of the night after the Jayhawks scored twice in the first. Senior Lily Behrmann sparked the Jayhawks with a leadoff double, and went on to finish the game with a team-high three hits. Junior Jessie Roane traded places with Behrmann after her RBI double put the Jayhawks on the board, and later came into score on a Taylor Dodson single.
"We talked to our team about setting a tone — both on defense and offense," Smith said. "I think we came out in the top of the first and we didn't set the tone the way we wanted to on defense, but our offense picked up the slack. I felt like we did a good job of kind of sending a message that offensively we were going to be on tonight."
UMKC (6-17) cut the lead in half in the third when Sims plated Lawrence High alumna Morgan Byrn with an RBI single. Byrn went 1-for-3 with two runs scored in her return to Lawrence.
The Jayhawks added two insurance runs in the fourth and another in the sixth before the Kangaroos threatened in the top of the seventh. UMKC loaded the bases again with one out to bring Sims to the plate as the tying run. Sims hit a fly ball to Behrmann in right, but the 5-foot-9 senior made a sliding catch to record the second out. Behrmann then hopped to her feet and threw to second base to try to try to double off Byrn. However, the umpire ruled that Byrn had tagged up along with Kendra Leach, who scored from third.
"It was a tough play, a tough call," Smith said. "They had originally said that it was a double play, and then reversed and said the girl tagged up to get to third. I think that got it right."
Byrn went on to score on an error to pull the Roos within two, but Reid struck out Abbi Johnson for the final out to secure the Jayhawks' fourth straight win.
Next up for the Jayhawks is No. 13 LSU, which is a familiar opponent for Smith.
"We're excited to play a team of that caliber. They're a World Series team year-in and year-out. I was at LSU before I came here, so I have a lot of pride in what they do there," Smith, who spent three years as an assistant at LSU before coming to KU in 2009, said. "It's going to be fun to compete with one of the best teams in the country. We're getting ready to do that in conference every weekend, so it's going to be fun to do that."
The first pitch between the Jayhawks and Tigers is set for 4:30 p.m. today.
UMKC 001 000 2 — 3 7 3
Kansas 200 201 X — 5 10 2
W — Alexis Reid (9-4). L — Lynsey Conner (2-7).
2B — Roane, Behrmann, KU; O'Brien, UMKC.
KU highlights — Lily Behrmann 3-for-4, run; Taylor Dodson 2-for-4, RBI, run; Harli Ridling 2-for-3, walk; Jessie Roane 1-for-4, RBI, run.