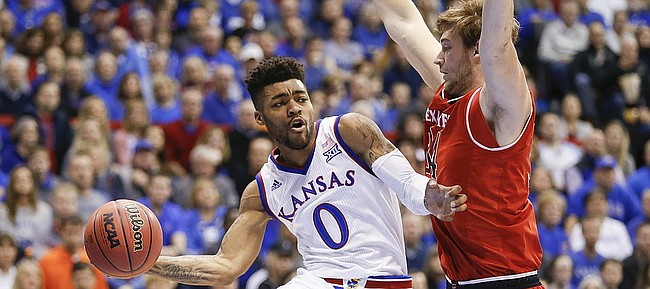 Quick-leaping, 6-foot-8 Texas Tech forward Zach Smith was in the midst of an impressive night in which he contributed 17 points, seven rebounds and three blocked shots.
Smith smelled another blocked shot, but not even Fearless Frank Mason III would have the temerity to put up a shot with Smith's long arms and 9-inch height advantage standing in his way, would he?
He would. He did. He scored.
Mason didn't put it the extra time every day in the spring, summer, fall and winter working on his floater to amuse himself. He didn't perfect the shot so that he could win H-O-R-S-E contests with an over-the-broom-with-you-standing on the chair trick shot.
Photo Gallery
Kansas basketball v. Texas Tech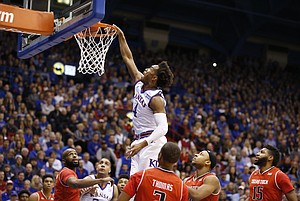 View a gallery of images from Saturday's game between the Jayhawks and Red Raiders at Allen Fieldhouse.
Mason refined the shot to give himself one more way to score and one more means of messing with defenders' heads.
Mason drove the left baseline and Smith was in perfect position to send the shot out of bounds, except that he couldn't reach it. Mason had to send this particular floater especially high, so he did, putting just the right arc and touch on it that it came down through the net.
Mason's shot went almost as high as his stock as a basketball player has soared this winter.
"Pro," was the first word first-year Texas Tech coach Chris Beard used about Mason after watching him score 26 points to lead Kansas to an 85-68 victory against his Red Raiders in Allen Fieldhouse on Saturday night. "Great college player. Has gotten better every year."
So much better that Mason's name surfaces in national player of the year conversations, which usually start with discussions about Villanova senior Josh Hart.
"He's grown from being a guy who we thought could impact our program and be a good player for us in time to, in my opinion, a guy who has an unbelievable chance to be a first-team All-American, so that shows you the growth," Kansas coach Bill Self said of his point guard. "And I haven't thought he's played near as well of late as he was early, but I thought tonight was by far the best game he's had in the past two or three weeks."
Mason made 6-of-11 field goals, including 3-of-4 3-pointers and added five rebounds and four assists. He played 36 minutes, reaching the 35-minute mark for the 12th time in 15 games this season.
He managed to strengthen his body and soften his shot during a very productive offseason and is shooting .523 from 3-point range.
Mason has found a way to shoot all of his shots with just the right touch. He finishes at the rim by throwing it higher off the glass than most and has a great feel for which shot to pull out at any given moment.
The floater just might the prettiest shot in his arsenal.
"All summer, every day in practice, I always work on my floater and different runners, left hand, right hand," Mason said. "I'm pretty comfortable with shooting it with my right hand or left hand and I still have a lot to work on."
He's averaging 19.9 points, 4.5 rebounds and 5.6 assists.
The effectiveness of the floater has made him realize it's not always necessary to sting like a bee.
"I think I would dump it off to a teammate or get all the way to the basket (as a younger player)," Mason said. "Watching a lot of film over the years you have to change it up to not getting all the way to the basket and getting an offensive foul, and shoot a floater or a mid-range jumper."
Self has always encouraged guards to shoot floaters. Mario Chalmers, for one, had a beauty.
"I think Frank's really developed his floater over time," Self said. "Devonte' (Graham) last year shot a ton of floaters and he hasn't shot quite as many this year. I think that's a good shot, and when you're 5-foot-11 or 10 or whatever Frank is, you've got to find some ways to get the ball over the big guys. That's a shot people just started shooting in the last 20 years. There weren't a lot of people shooting floaters, but he's gotten good at it, and he's good at it with his left hand as well."
It's a treat to watch a terrific athlete steadily improve for three years and then explode in his fourth, willing his way onto the radar of NBA scouts, even if he doesn't quite fit the prototype.
Mason is one 3-pointer away from passing on the all-time Kansas scoring list the greatest basketball prototype to ever grace the earth. Mason has 1,431 career points. Wilt Chamberlain scored 1,433 in his two seasons at Kansas.
— See what people were saying about the game during KUsports.com's live coverage.
---
More news and notes from Kansas vs. Texas Tech
---