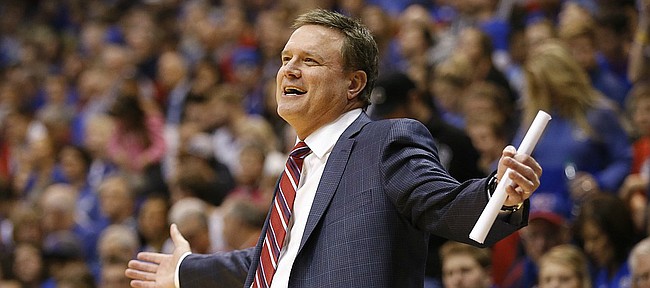 Saturday morning at a ceremony in the desert not far from the site of this year's Final Four, the Naismith Memorial Basketball Hall of Fame officially confirmed something that Kansas basketball fans have believed for years.
Bill Self is a Hall of Famer.
Self, 54, on Saturday was announced as one of 11 members of the Hall of Fame's 2017 class, which will be inducted into the Springfield, Mass., shrine in early September.
That was just a formality, though. Self himself actually found out about the honor earlier in the week and on Saturday shared the experience.
"A lot of times in life you prepare for how something could go down and then when it actually goes down there's no preparation," he began. "I was driving, alone, (when I got the phone call) and I had to pull off the road. Although I'm not the most emotional person, I became overcome with emotion. It was special.... To be in an elite group of people that you've grown up idolizing and trying to emulate is quite an honor."
One of 14 finalists on this year's ballot, Self received at least 75 percent of the 24 available votes by the Hall's Honors Committee and becomes the fifth of eight Kansas men's basketball coaches to be welcomed into the prestigious group, joining James Naismith, Phog Allen, Larry Brown and Roy Williams.
"It's the highest honor in the game of basketball, to be inducted into the Naismith Memorial Hall of Fame," ESPN analyst Jay Bilas said at Saturday's ceremony. "It's the greatest of the great. Being great isn't good enough for the Naismith Memorial Basketball Hall of Fame. You have to be the greatest of the great."
A first-time member of the Hall of Fame ballot, Self's credentials certainly stack up with those head coaches already in the Hall of Fame. During 24 seasons at Oral Roberts, Tulsa, Illinois and Kansas, the Oklahoma native has racked up 623 victories and a winning percentage of .764, 623-192. That more than 400 of those have come at a blue blood institution like Kansas, where his winning percentage jumps to .827 (416-87), including a ridiculous 221-10 record in home games, only solidified his candidacy to become a Hall of Famer.
During his 14 seasons at KU, Self has led the Jayhawks to one national championship, two Final Fours, seven trips to the Elite Eight and 13 consecutive Big 12 Conference regular season titles.
"As a coach, I think you always want team first, you always want the players to experience the best, whatever the best is, and, certainly, we've done that a little bit," Self said Saturday. "Not as much as we had hoped, but we've had a pretty good run. And I've never really thought about the individual stuff much at all. But, unfortunately since last Saturday I've had a chance to think about it a little bit more.... I would not have been the least bit disappointed if I didn't get the thumbs up because I thought it was such an honor just to be a finalist."
When asked who among those closest to him was most emotional about his latest honor, Self pointed to his daughter, Lauren, whom he said welled up a little at a Friday night banquet.
"I told people by phone so I didn't get a chance to see their expression when it happened," Self said. "But I know mom and dad are pretty proud."
As for how his latest honor compared to winning the 2008 national championship, Self said both were special but also different.
"The national championship in 2008 is a little bit different because the feeling that overcomes you is one that you're representing so many," he explained. "You've got an entire nation of fans and all the players on your roster and those sorts of things. That was ridiculously special, but this one is more about the journey and all the people that have played a role in propping you up and putting you in position to have success.
"There's so many great coaches out there and so many are recognized because they've won a ton of games. But, really, the institution you coach at and your assistant coaches and all those things, they play such a role in giving you a chance to win games. When you coach at Kansas, I mean, you should win games because you should get good players. There's a lot of guys out there that, in my opinion, are Hall of Fame coaches because they go 20-10 when their ceiling was maybe 13-13. And I don't see myself any different from those guys out there that are busting it every day but just haven't quite had the same resources that I've had."
Despite Self's humility, including his comments last month that others who had put in more time were more deserving of the honor, there were plenty of people associated with KU willing to sing Self's praises.
"Bill has earned this honor," said KU athletic director Sheahon Zenger. "With his passion, his ability to teach, develop and adapt, and his consistency of excellence at the highest level over a long period of time. He has indelibly made his mark as a wonderful steward of the great tradition of Kansas Basketball."
Added outgoing KU chancellor Bernadette Gray-Little: "When the first basketball coach in your university's history was also the inventor of the game, expectations are high. Coach Self has met, and I would say exceeded, all expectations since arriving at KU and has confirmed his status among the great coaches in college basketball. On behalf of the University of Kansas and Jayhawks everywhere, I want to congratulate Coach Self on his selection to the Naismith Basketball Hall of Fame, and I want to thank him for all he has done to continue KU's remarkable basketball tradition."
---
Our Series on Bill Self's Journey to the Hall of Fame
• Hall of Fame Material Part I: Larry Brown 'in awe' of Bill Self's stellar run at Kansas
• Hall of Fame Material Part II: Daughter Lauren most impressed by Bill Self's ability to mentor
• Hall of Fame Material Part III: Frank Mason III knew right away that Bill Self was the coach for him
• Hall of Fame Material Part IV: Doc Sadler says Bill Self same (sarcastic) guy as the day he met him
• Hall of Fame Material Part V: Bill Self's style, passion make Danny Manning a proud alum