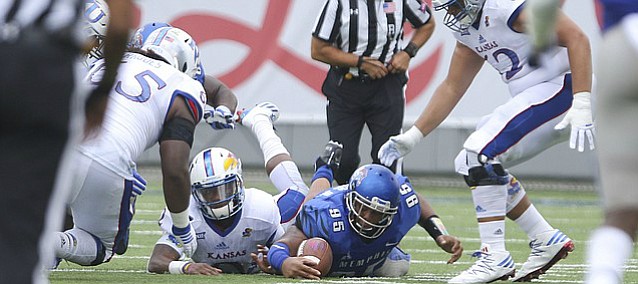 Memphis, Tenn. — For the first time in his career at Kansas, sophomore Jacob Bragg started at center Saturday at Memphis. Afterward, the young offensive lineman, pushed into a new role due to injuries to starter Joe Gibson and would-be backup Mesa Ribordy, regretted his role in what became a mistake-heavy showing, and a 43-7 road loss at Liberty Bowl Memorial Stadium.
Bragg, a 6-foot-4, 291-pound redshirt sophomore from Nacogdoches, Texas, started two games at right guard for KU a year ago. But his debut at center included some less than perfect shotgun exchanges between he and the quarterback. In the first quarter, junior Montell Cozart couldn't possess a snap and failed to retain possession for KU (one of four fumbles lost and six turnovers).
According to Bragg, he had two more miscues.
"Three snaps bad is three snaps too many," the fill-in center said.
According to Bragg, he learned he'd start KU's road opener this past Sunday. After the Jayhawks fell to 1-2 on the season in their non-conference finale, Bragg couldn't pinpoint what led to his shortcomings after practicing at center all week.
Photo Gallery
KU football v. Memphis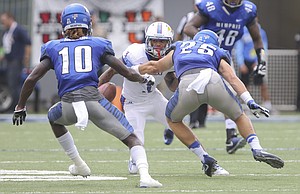 View a gallery of images from the Jayhawks game against the Tigers at the Liberty Bowl in Memphis.
Podcast episode
Kansas football coach David Beaty answers questions following his team's 43-7 loss at Memphis, which moved the Jayhawks to 1-2.
"Honestly, I don't know. Sometimes when we're calling plays at the line it's hard to talk to the guys, get the calls out and know who my point is and who's helping me. And it's all pretty quick," Bragg said, rapidly snapping his fingers five times, "so when I'm snapping the ball sometimes it's right in the middle of when I'm saying something. It's just something I've gotta get better at. I've gotta prepare more for that."
Kansas coach David Beaty called Bragg's situation (the coach didn't specify on the nature of Gibson and Ribordy's injuries) a "tough draw." Beaty added a bad snap in a shotgun offense can become as disruptive as a penalty or other setback.
"We prepared him," Beaty said of Bragg. "It's not like he's new at it. But we've gotta do a much better job. We can't afford one bad snap."
Shelley-Smith returns
The injuries to Gibson (center) and Ribordy (right guard) gave the KU starting offensive line a different look, as did the return of Jordan Shelley-Smith, who was cleared to return after missing the first two weeks due to a concussion.
Shelley-Smith started at left tackle, moving D'Andre Banks to right guard. Jayson Rhodes started the third straight game at left guard, and Hakeem Adeniji once again started at right tackle.
Jayhawks hurt in loss
The KU defense played most of the Memphis loss without starting linebacker Joe Dineen. The junior, who entered the game with 14 total tackles and added two more against the Tigers, appeared to injure his right leg in the first quarter.
Afterward, Beaty had no update to provide on Dineen.
"I'm hopeful that it's more just a soft tissue. I think that's what we're dealing with. But, man, that hurts to lose that guy."
Courtney Arnick (four total tackles at Memphis) replaced Dineen next to Marcquis Roberts in the middle of the field.
Said Roberts: "Joe's a leader, but we always say 'next Hawk up.' The next person has to be ready. I have a lot of confidence in Courtney. He's been here a long time, has a lot of playing time. I believe in Courtney's ability. He's a really good player."
The Jayhawks also had to alter their special teams lineup when long-snapper John Wirtel got hurt late in the first quarter. Freshman Logan Klusman replaced the senior.
Marks for Herbert
KU true freshman running back Khalil Herbert scored the first touchdown of his career in the second quarter.
The 66-yard score became Herbert's new personal best run, which came shortly after a 35-yard reception from Ryan Willis, also a personal record.
Herbert's rushing touchdown was the longest by a KU freshman in the last 10 years, beating a 63-yard yard run, in 2006 by Todd Reesing, versus Colorado.
It was also the longest rushing TD for a Jayhawk since a 74-yard score by Tony Pierson, against Central Michigan in 2014.
By the end of the game, Herbert's 109 total yards accounted for 35 percent of KU's offense (394 yards).
Defensive highlights
Kansas tripled its season sack total on the Tigers' opening drive, when defensive ends senior Damani Mosby and sophomore Dorance Armstrong Jr. wrapped up Tigers quarterback Riley Ferguson.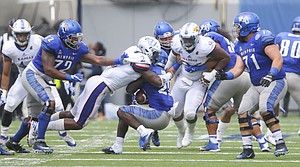 Mosby forced the second fumble of his career at Memphis, and Armstrong tallied a career-high three tackles-for-loss, including two sacks (which tied his personal best).
The 10 tackles for loss by the KU defense improved its season total to 29, tying for the most in a three-game span since 2007. During that Orange Bowl-winning season, the Jayhawks posted 38 tackles behind the line of scrimmage against Southeastern Louisiana (Sept. 8), Toledo (Sept. 15) and Florida International (Sept. 22).
Freshman safety Mike Lee posted a career-high four tackles in the loss.
Sophomore linebacker Osaze Ogbebor tied his personal best with four tackles against the Tigers.
— See what people were saying about KU's matchup against Memphis during KUsports.com's live coverage
---
More news and notes from the loss against Memphis
---