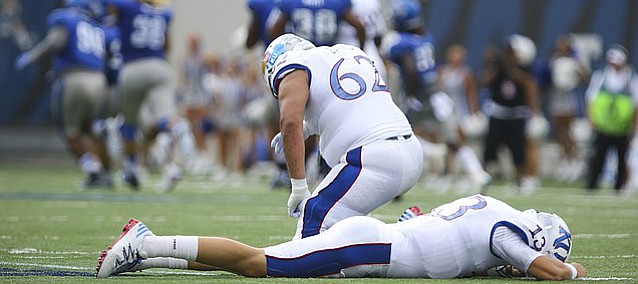 Memphis, Tenn. — The Kansas football team took its traveling road show of horrors to Liberty Bowl Memorial Stadium Saturday, and the seven-year long spectacle refused to die. Capitalizing on KU drives that went nowhere and an array of Jayhawk giveaways, Memphis dismantled the visitors, 43-7, extending the program's losing streak away from Lawrence to 39 games.
The Kansas offense set an inept tone in the first quarter, losing fumbles on three of its first four drives after opening with a three-and-out and its first of seven punts. Already trailing 7-0 by their second drive, the Jayhawks (1-2) helped out Memphis (2-0) with its first of three first-half fumbles — and don't forget a second-quarter interception for good measure. Starting quarterback Montell Cozart couldn't handle a snap from new starting center Jacob Bragg (playing due to injuries to starter Joe Gibson and backup Mesa Ribordy) and Memphis tackle Michael Edwards recovered a loose ball 10 yards behind the line of scrimmage.
The KU offense kept on giving from there in the first half. When backup QB Ryan Willis took over, as scheduled, for the third series, long receptions by Khalil Herbert and LaQuvionte Gonzalez ultimately meant next to nothing after Willis stepped up in the pocket on second-and-10 at the Memphis 25-yard line and coughed the ball up to Jonathan Cook when hit by Shareef White.
"He put his helmet right on the ball and it just kind of popped up. I have to get better at ball security," said Willis, the sophomore who completed nine of 13 throws for 80 yards while playing more than expected in the wake of a bad outing from Cozart, "but it's the game of football. Those things happen. You just have to learn from it, grow from it and start looking toward next week."
Photo Gallery
KU football v. Memphis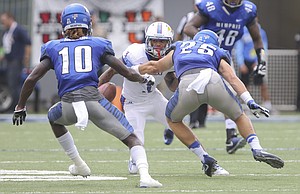 View a gallery of images from the Jayhawks game against the Tigers at the Liberty Bowl in Memphis.
Podcast episode
Kansas football coach David Beaty answers questions following his team's 43-7 loss at Memphis, which moved the Jayhawks to 1-2.
Although the Kansas defense held the Tigers to field goals following both those turnovers, the unit could only extinguish so many self-inflicted fires. More came in the second quarter, when Cozart, who played far better in the previous two games, gift-wrapped Memphis takeaways on back-to-back possessions in the final minutes of the half.
First, on the move on third-and-long, Cozart simply lost his grip on the football, and when he did Michael Edwards happily picked it up.
"I know the fumble that I had," Cozart said, "we was working that play all week — doing a little shovel, fake shovel — and did it in the game and the ball just slipped right out of my hand."
Next, Cozart — who finished 13-for-22 passing, with 87 yards, two interceptions and no touchdowns — dropped back to throw on the first play of a would-be drive and carelessly lofted a pass toward a crowd near the line of scrimmage on a long-developing play for tight end Ben Johnson. Tigers freshman tackle Jonathan Wilson met the surprise in the air, and ran 61 yards the other direction for a touchdown, setting up a 33-7 Memphis lead at halftime.
Second-year KU coach David Beaty, who said after the loss he didn't think he ever had experienced a game in which his team turned the ball over six times before this one, said the Tigers' pick-six was just one of many examples of the Jayhawks holding themselves back.
"We always talk about not putting the ball in jeopardy and it's always a better option to live to play another down than it is to throw a ball up," Beaty said.
However, Cozart said the Jayhawks' fundamentals kept breaking down as they tried to make plays to ignite some semblance of a rally.
Two more turnovers came in the fourth quarter — a second ill-advised Cozart throw for an interception and a Steven Sims Jr. fumble.
"Once you get into the game," Cozart said, "and start having those turnovers, you try to fight your way back and sometimes you just kind of compound it by having more turnovers. But that was definitely the biggest thing out there, and it showed."
KU made its lone small scrape into the Memphis lead in the second quarter, when freshman Herbert (team-high 75 rushing yards on six carries) took off for a 66-yard touchdown run on third-and-one. However, the Kansas offense produced nothing but punts and turnovers the remainder of the game after getting as close as 19-7.
Said Beaty: "At that point in time I thought that gave us the momentum we needed to kind of get jump-started. And we wound up not being able to utilize it the way that we needed to."
The Kansas defense couldn't be blamed for that, though. Memphis did prevail in total offense, 394-314, but time after time in the first half the Tigers started drives in KU territory. Five Memphis possessions on the right side of the 50-yard line netted a field goal (KU 32-yard line), a field goal (KU 29), a punt (KU 48), a touchdown (KU 29) and a turnover on downs (KU 41).
"When the defense is out there," linebacker Marcquis Roberts said, "I call us the firefighters. We've gotta put out the fire, no matter what position we're in."
Indeed, Beaty said KU's turnovers spoiled a good outing from the defense, which was led by defensive end Dorance Armstrong Jr.'s three tackles for loss (two sacks). Both Roberts and defensive back Marnez Ogletree led the team with five solo tackles and one pass breakup apiece.
Still, as the 34,448 in attendance witnessed, KU often finds itself in learning mode on Saturdays. Beaty said the subject material too often already should've been mastered.
"I still think we have a pretty good football team," Beaty offered. "If we can just get out of our own way."
— See what people were saying about KU's matchup against Memphis during KUsports.com's live coverage
---
More news and notes from the loss against Memphis
---