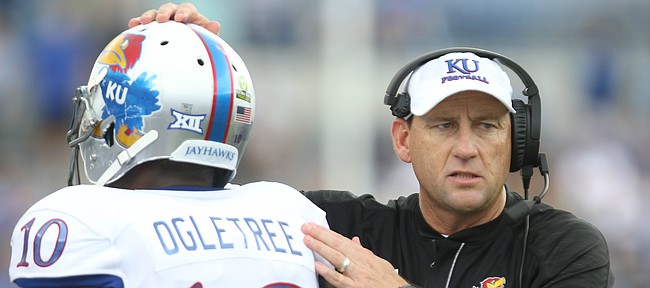 Memphis, Tenn. — Seemingly in disbelief that the team he coaches vomited the football over and over for the second week in a row and made it so easy on the opponent, Kansas second-year head coach David Beaty belly-flopped onto the sword to open Saturday's post-game press conference.
"They've done that two weeks in a row," Beaty said after KU's road futility streak swelled to 36 games with a 43-7 loss to Memphis. "That starts with me. That's not the kids' fault. That's me. That's not them coaches' fault. That's me. I've got to get better. I've got to get a lot better because obviously what we're doing right now is not working."
An accomplished recruiter of Texas athletes and in his second season as a college head coach, Beaty did not say how he needs to improve. As always, I'm here to help.
Photo Gallery
KU football v. Memphis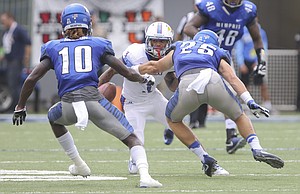 View a gallery of images from the Jayhawks game against the Tigers at the Liberty Bowl in Memphis.
A three-step plan to become a better head coach:
Step 1: Ditch as your default position personally taking over what's broken, be it coordinating the offense, coaching quarterbacks, teaching catching punts, whatever.
Rob Likens coordinated an offense short on blocks, yards and points last season and Beaty demoted him and took his place, installing his version of the Air Raid. So far, in two games vs. quality opposition, the offense has looked short on blocks, yards, points and ball security.
Step 2: Stop rotating quarterbacks. It often has been said that a team that has two quarterbacks doesn't have any. Settle on one quarterback, let him know before the game that no matter what happens he'll stay in the game, unless he's not healthy enough to continue. Decide on Carter Stanley, Ryan Willis or Montell Cozart, give him 80 percent of the reps during the week and see if that doesn't accelerate his understanding of the offense and of his own abilities.
Step 3: Decide on a depth chart well before the final week of fall camp and let the first-stringers at every position get the majority of the reps in hopes that it will result in cleaner football on game days.
Back to Step 2, I asked Beaty whether he planned on settling on one quarterback or continuing to use multiple trigger men.
"We have three really good quarterbacks that I really like," Beaty said. "They continue to grow in our offense."
Podcast episode
Kansas football coach David Beaty answers questions following his team's 43-7 loss at Memphis, which moved the Jayhawks to 1-2.
I maintain any one of them would grow faster if entrusted with the clear-cut, first-string job. Growth of any sort was not evident Saturday when the Jayhawks turned it over six times.
"We played Ryan in that third series and then we had some turnovers by Montell," Beaty said. "The decision we made was, 'Hey, listen, let's go to Ryan, give him that shot.' Things weren't working real well with Montell at that point so we basically gave Ryan an opportunity for a while, then we went back to Montell and he made another mistake there late."
Two problems with that line of thinking: Cozart did nothing that merited being taken out of the game the first time and he did nothing all day to deserve being put back in the game. Pulling him the second time was the obvious move. The first time? No. Beaty changes quarterbacks as quickly as Kansas changes football coaches, not fertile soil for growth.
It must make it difficult to get into a rhythm as a quarterback, knowing that your stay on the field is so temporary, right?
"No," Willis said. "You just have to take advantage of the opportunities you're given. You have to make the routine plays. Our coaches know what they're doing and we're going to trust them."
Cozart gave the team answer as well.
"When one guy's in there we're learning off one another and when we're coming off the field, we're asking each other what we're seeing and what the defense is trying to do to us," said Cozart, who threw two bad interceptions and lost another possession on an unforced fumble. "It helps a little bit having another guy go through it before you go out there, just kind of go to school on it, and when it's your chance to get out there, you have to move the offense up and down the field."
In charge of a young, undermanned roster, Beaty has no easy answers at his disposal, but he's making it too hard on himself by wearing too many hats and playing too many quarterbacks. And the harder he makes it on himself, the easier he makes it on the opponent.
— See what people were saying about KU's matchup against Memphis during KUsports.com's live coverage
---
More news and notes from the loss against Memphis
---