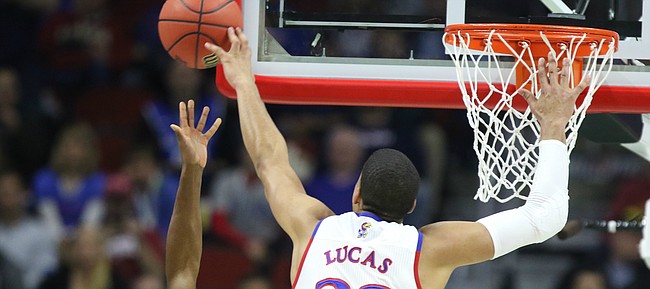 Des Moines, Iowa — Kansas University basketball coach Bill Self's search for quality post play alongside Perry Ellis kept coming up empty early in the season. It ended long ago and was stuffed deeper into the past Saturday night at a block party at the expense of Connecticut.
Reserve Jamari Traylor had the loudest block when he sent one whistling off his hand with the velocity of an Eric Hosmer line drive and into the stands. Traylor did what he usually does when he makes a highlight. He looked to the bench because he enjoys watching his teammates celebrate his feats almost as much as enjoys giving them something to celebrate.
What Traylor saw was a pair of freshman teammates with huge grins. Cheick Diallo was wagging his index finger. Carlton Bragg Jr. was jumping over and over with balled fists.
It was an amazing play made possible by Traylor building up a head of steam in defensive transition and leaping so explosively.
"It pumps energy into the room, gets us more in tune defensively, and when we're energetic on defense, we can pretty much play with anybody and lock guys up," Traylor said.
It was one of three blocks for Traylor, who knows his role and has been playing it well lately. It was the most exciting of KU's seven blocked shots during Saturday night's 73-61 victory that sent the Jayhawks to their first Sweet 16 since 2103. But none was bigger than Landen Lucas' first of three. It came on UConn's first shot on an aggressive drive to the hoop by Sterling Gibbs.
It served as an early statement that the lane is closed for Kansas foes.
"If we want to win, that's what's going to win," Traylor said. "Defense wins championships. We have to bring it every night. We just had to take it to 'em and we did a great job of that."
Podcast episode
Kansas basketball coach Bill Self, as well as Jayhawks Perry Ellis and Wayne Selden Jr., answer questions from media members following the Jayhawks' 73-61 victory over Connecticut, which advanced KU to its first Sweet 16 since 2013.
To say the least. Inside the three-point arc in the first half, the Huskies made just 3 of 21 field-goal attempts, a remarkable statistic.
Making the paint a frustrating place for opponents to score ranks at the top of reasons Kansas has rattled off 16 consecutive victories. Traylor throws some of the credit for that the way of Lucas.
"Landen's turned into a great shot-blocker down there," Traylor said. "He's a force to be reckoned with on the block. Guys' can't score on him. He's a lock-down defender down there."
It seems like 100 years ago that Lucas had trouble making easy shots and arrived at the scene a step late on defense. He has improved during the season it's easy to forget he encountered those troubles earlier this season. It's rare for a player to improve to the extent he has and it's a blast to watch it unfold.
During his two games in Wells Fargo Arena, Lucas totaled 50 minutes and produced 22 points, 20 rebounds, blocked five shots and made 8 of 11 field goals and made 6 of 7 free throws.
His line from Saturday's game — six points, 12 rebounds, four assists, one turnover, three blocks and a steal — demonstrates how much his game has grown.
Maryland, KU's possible next opponent (if the Terrapins move past Hawaii on Sunday), has far more size than either Austin Peay or UConn, but with the growth of his confidence, Lucas won't shy away from the challenge and Traylor will be ready to give him a hand.
— See what people were saying about Kansas vs. UConn during KUsports.com's live coverage
---
More news and notes from KU's win over UConn
---
---
---