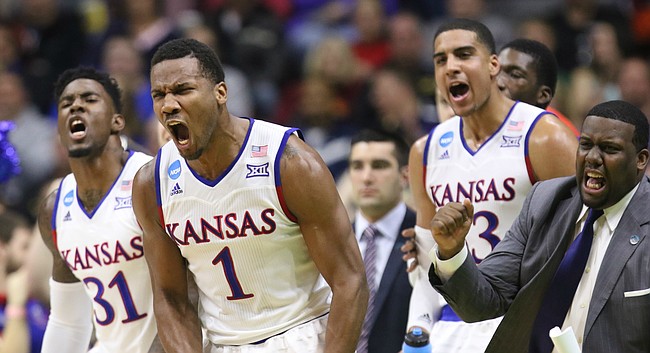 Des Moines, Iowa — Kansas is back in the Sweet 16, exorcising the demons of the past two seasons of Round of 32 failures by rolling past No. 9 seed UConn, 73-61, at Wells Fargo Arena on Saturday night.
Behind some hot shooting and tenacious defense, the Jayhawks raced out to huge leads of 18-5 and 40-16, bringing back memories of the 2008 title team's whipping of North Carolina in the Final Four during which Bill Self's squad jumped all over the Roy Williams-led Tar Heels, 40-12, en route to the '08 national championship.
There was very little that didn't go right for the Jayhawks in that first half. Kansas shot 56 percent from the floor and held UConn to a 26-percent shooting clip. The Jayhawks (32-4) also out-rebounded the Huskies (25-11) 25-11 and hit 6 of 11 from three-point range.
What may have been the most amazing thing about that first half was the fact that UConn actually hit 50 percent from three-point range (5-of-10) and only turned it over four times.
Kansas was just that efficient on offense — and that tenacious on defense — that most of what UConn did simply did not matter.
The second half was a much different story, as Kansas struggled to play with the large lead and looked sped up and rattled at times by the Huskies' defensive pressure.
The sluggish second half kept up with the theme of the day around the NCAA Tournament (albeit in different cities), where both Wichita State and Yale came back from huge deficits to make battles of their second-round games only to lose to Miami and Duke the way UConn lost to Kansas.
UConn's scrappy play and fight kept Kansas from completely cruising into the second weekend, but each time the Jayhawks appeared to slip, someone bailed them out. Never was that more true than in the final two minutes when Wayne Selden Jr. hammered a one-handed flush on a lob from Devonté Graham to put KU up 15. The slam that inspired a huge reaction from fans of both teams even had broadcaster and former Duke great Grant Hill signaling for a timeout court-side.
Selden led the Jayhawks with 22 points and 7 rebounds and Ellis added 21 points and 8 rebounds. Landen Lucas came up big all night, as well, finishing with 6 points, 12 rebounds and 4 assists.
Here's a quick look back at some of Saturday's action:
• The game turned when: The Jayhawks, who raced out to a fast 18-5 lead, responded to an 8-1 UConn run by turning a 19-13 lead into a 40-16 lead with a 21-3 run. Selden scored seven points during the run and Ellis, who momentarily left the game with a knee injury in the early going, added five.
• Offensive highlight: Graham threw an under-handed lob on the run for a nasty Selden fast-break dunk. Before that, there was plenty more of Selden. They weren't dunks that would make Uncle Anthony jump out of his seat, but you can bet Selden's uncle was feeling just as good about his nephew's back-to-back buckets midway through the second half that helped stop a serious UConn charge. The first came on a drive to the rim from the top of the key. And the second was a soft little floater in the paint after a drive from the right wing. Both times, Selden's buckets helped KU maintain a double-digit lead heading into the final eight minutes. On the very next possession after Selden's huge buckets, he drove the lane again and kicked to Lucas, who fired a perfect pass to Ellis on the block. Ellis did the rest, going up with a little extra mustard to finish the uncontested slam and KU's lead was back up to 15.
Podcast episode
Kansas basketball coach Bill Self, as well as Jayhawks Perry Ellis and Wayne Selden Jr., answer questions from media members following the Jayhawks' 73-61 victory over Connecticut, which advanced KU to its first Sweet 16 since 2013.
• Defensive highlight: On UConn's first possession of the game, Sterling Gibbs got by Frank Mason III with the dribble, but there to make up for it was Landen Lucas, who rose vertically and swatted Gibbs' floater out of bounds with authority. It was, without question, one of the best blocks of the season for Lucas and it helped lead to Kansas forcing a shot clock violation on UConn's first offensive possession. In keeping with the Block Party theme, senior Jamari Traylor delivered a couple of blocks that might very well end up on SportsCenter, later in the first half. Both came on shots by UConn guard Jalen Adams and both were nasty. The first was on help "D" as Traylor came across the lane to help on the drive and volleyball-spiked Adams' floater out of bounds toward the KU bench. One minute later, Traylor chased Adams down from behind on a fast break and swatted the ball off the backboard to prevent a layup. As he exited the floor a few minutes later for a much-deserved rest, Traylor received a huge ovation from the KU fans in Des Moines.
• Key stat: Kansas absolutely controlled the paint, particularly on the defensive end. The Jayhawks out-rebounded UConn 44-24 and also finished with 7 blocks. 
• Up next: The Jayhawks will move on to the Sweet 16 for the first time since 2013. Next week, they will head to Louisville, where they will take on the winner of the Sunday match-up between No. 5 seed Maryland vs. No. 13 seed Hawaii (6:10 p.m. Sunday) in the regional semifinals next Thursday. 
— See what people were saying about Kansas vs. UConn during KUsports.com's live coverage
---
More news and notes from KU's win over UConn
---
---
---